10 Top Email Tracker Solutions for Gmail in 2021
Email tracking has become important part of marketing strategy. It gives brands the information they need to inform their sales process and hone our campaigns. These are the top 10 Gmail tracker solutions to look for in 2021.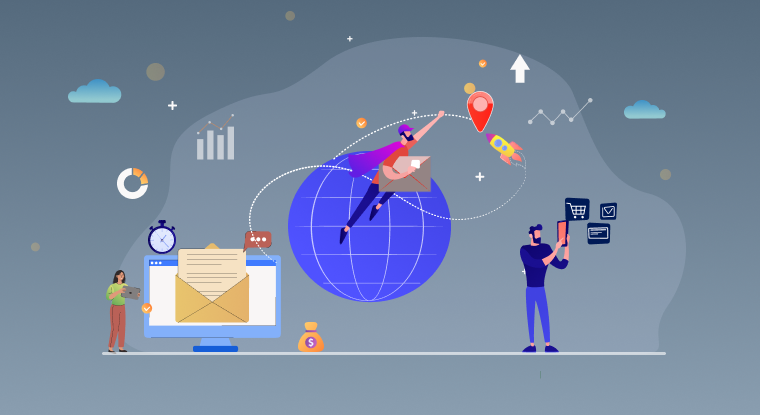 Emails are the go-to communication software for most salespeople which makes it extremely crucial to do it right. Looking for email tracking solutions to improve your Gmail game? Look no further!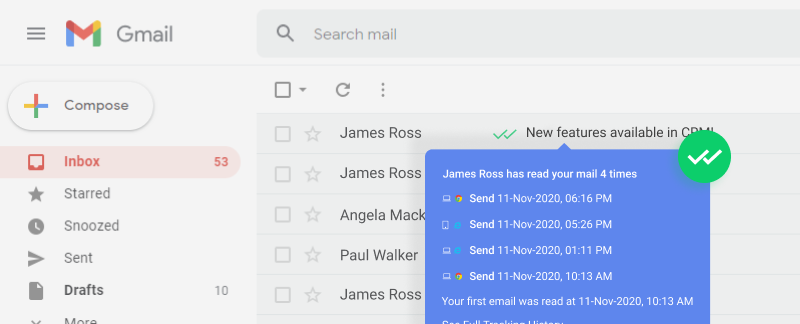 With 269 billion emails sent and received each day, it's more critical than ever to ensure that your messages are reaching your target audience. While email tracking doesn't guarantee that your recipients will take action on your message, it does offer you a foolproof way to find out how many of them have opened and read your email.
You can use this insight to improve your outreach by, for example, removing unresponsive contacts from your list. An essential tool in any email marketer's arsenal, email trackers help you keep track of how your email campaigns are doing.
As you can see selecting the right tracker is quite important. British businessman, John Caldwell said, ""To get the right message to the right person at the right time you first need to get the right data to the right database at the right time.""
By signing up for and installing an email tracker, you'll be able to access information that lets you know when your emails were opened, whether the recipient clicked any link inside the body of the email, and more.
Benefits of Using Gmail Tracker Solution
Here are a few amazing benefits of one of these top 10 Gmail tracker solutions
1. Identify the Best Time to Send Emails
Instead of making guesses about the best time to send an email, you can use an email tracker to align messages with your audience's schedules.
For example, if you find that a specific recipient opens your email in the evening, sending them a message at that time again will increase your chances of attracting their attention.
2. Stay Top of Mind With Your Customers
In the past, marketers had to wait for an arbitrary amount of time before making a follow-up call. With an email tracker, you wait until you see a notification that informs you a prospective customer has opened and read your message.
With an email tracker, you wait until you see a notification that informs you a prospective customer has opened and read your message.
This helps you stay front of mind, which can help increase sales and referrals.
3. Improve Your Email Marketing Content
Email trackers also reveal how much time a recipient spends reading a particular email. You can use this insight to improve the relevancy of your content.
You can use this insight to improve the relevancy of your content. Research reveals that relevant emails generate 18 times more revenue than broadcast emails.
Let's say your prospective customers are not spending a lot of time on emails that contain text-based product information but are more interested in emails that showcase your items through videos and attractive images.
Knowing their preferences, you can create an automated campaign with the content that potential customers are expecting and send follow-up emails to bring home the sale.
Top Gmail Email Tracker Solutions
Gmail is one of the most commonly used email clients, but it does not offer email tracking as a feature. However, you can always use a third-party application to reap its benefits. Below is a rundown of the top 10 Gmail email tracker solutions to look for in 2021 you can use to track emails in Gmail on the fly.
1. OpenedOrNot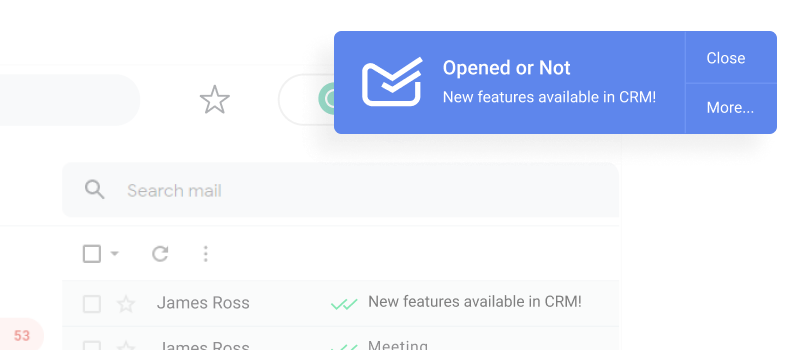 Join 30,000+ users as they analyze the best time to send emails and get real-time alerts for every activity on your email while browsing with the OpenedOrNot email tracking Chrome extension. This is one of our top 10 Gmail tracker solutions because it can track emails and receive real-time updates in seconds, find out the moment your emails have been read, track the number of clicks, and how many times a recipient has opened the mail, using only your normal Gmail interface.
It has a free plan with no bars on features. You can get email not-opened reminders, and advanced email statistics by signing up for OpenedOrNot. Download and install the Chrome extension from the Chrome Web Store and register for free to track all emails from Gmail automatically.
2. Mailtrack for Gmail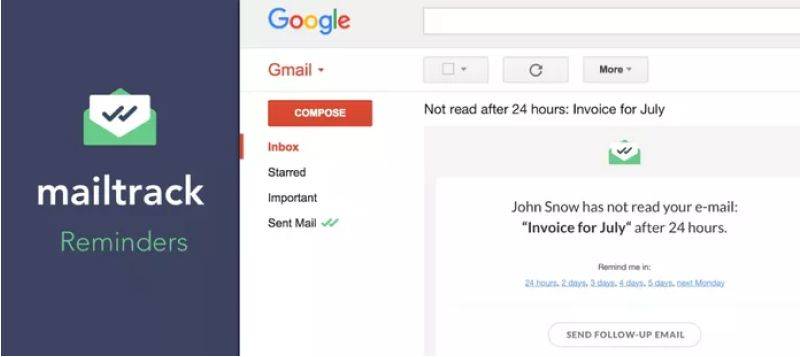 Mailtrack is a simple email tracker that tells you if the emails you sent have been opened or not. The app adds two check marks to your Gmail account. A single check mark implies the email was sent, while the double check mark indicates that it was opened.
In the paid version of Mailtrack, you also get a daily statistics report regarding the emails you sent the day before. The app provides data on:
Percentage of emails read
Number of messages sent
Percentage of links clicked by the recipients
Mailtrack's email tracking functionality is free to use. For daily reports and other advanced features, you'll need to sign up for the pro version of the app, which starts at $4.99 a month. The app works via a Chrome extension on computers and via an add-on on Android phones.
3. MixMax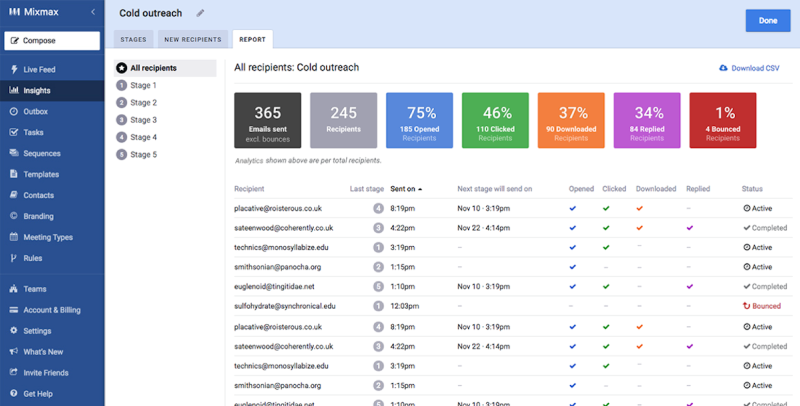 MixMax is another solid email tracking tool that allows you to see when and if someone reads your email. The basic functionality of the app informs when an email is opened, as well as how many times. With group emails, you can also see who exactly opened the email.
This is one of our top 10 Gmail tracker solutions because you can also activate desktop notifications for the emails you want to track. Doing this will display a popup on your computer when a recipient opens your email.
Moreover, you can automatically activate tracking for all new messages, which means you don't have to instruct the app to track individual emails each time.
The best part? MixMax's email tracking functionality is free to use, while advanced features such as email scheduling and one-click meetings are offered in paid plans. The pricing for paid plans starts at $9 a month. Some of them also offer a free trial.
MixMax works with Salesforce, Google Inbox, and Gmail. The app implements email tracking in all of the compatible email clients through a Chrome extension.
4. Cirrus Insight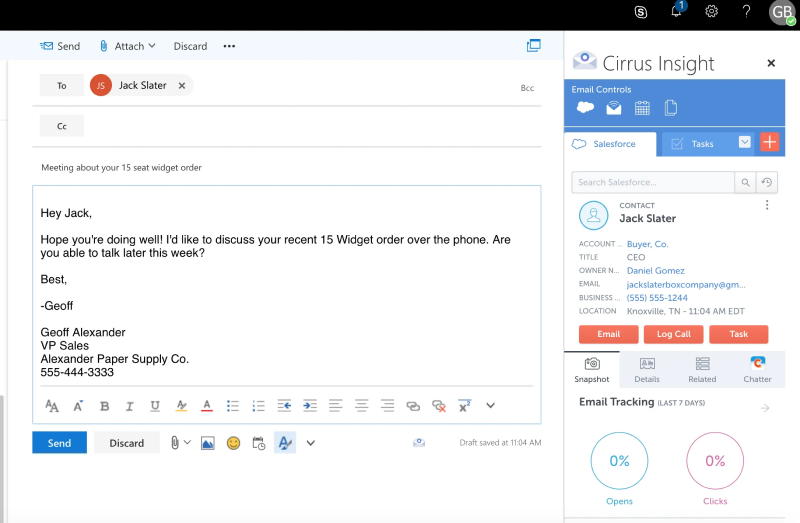 Cirrus Insight is a leading email tracking software that sends you an alert when someone opens an email and reveals when they opened it, how many times, and the location they were at when they opened it.
This is one of our top 10 Gmail tracker solutions because it lets you track engagement on your messages, as well as see how the attachments within them are opened. Attachment tracking enables you to see who reads your documents, what pages they open, and who they forward the email to, so you can assess their interest.
Plus, Cirrus Insight tracks responses, so you can identify which contacts still require follow-ups and analyze which templates are performing better than others. Better yet, the email tracker lets you sync your messages with your Calendar and Salesforce CRM, which makes it easy to schedule these follow-ups.
However, Cirrus Insight doesn't have a free plan. You'll need to sign up for one of its monthly plans to use its email tracker. Pricing starts at $36 a month, but there's a 14-day free trial.
Cirrus Insight is compatible with Office 365, Outlook, Gmail, and mobile.
5. Yesware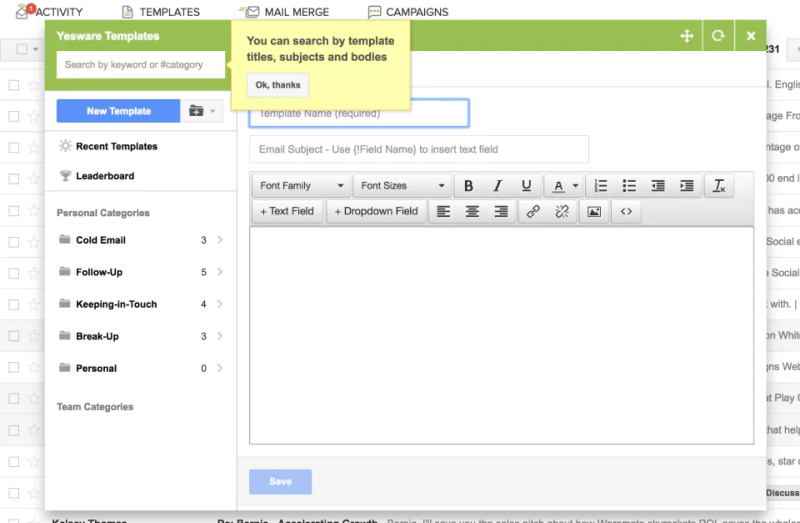 Yesware is one of the best email tracker apps for Gmail. It keeps you in the loop with the who, what, and when for every email open, attachment view, and link click. Real-time notifications help you give a timely response when nurturing relationships.
This is one of our top 10 Gmail tracker solutions because when you're emailing a PowerPoint presentation or a PDF file, it allows you to use presentation racking to see detailed per-viewer and per-page engagement.
Additionally, Yesware gives you the option to use tracking icons in your Sent and Inbox folders to see who's engaging with your messages at a glance.
However, email tracking in Yesware can only be accessed through a paid plan. Pricing starts at $12 a month, but there's a free trial that you can sign up for to get a feel of the app's functionality.
If you're using Gmail, the app will add an interface to your account that lets you access the tool's email tracking features directly from your Gmail inbox. For other email clients and software, Yesware can be installed via a Mozilla Firefox or Chrome browser extension.
6. Streak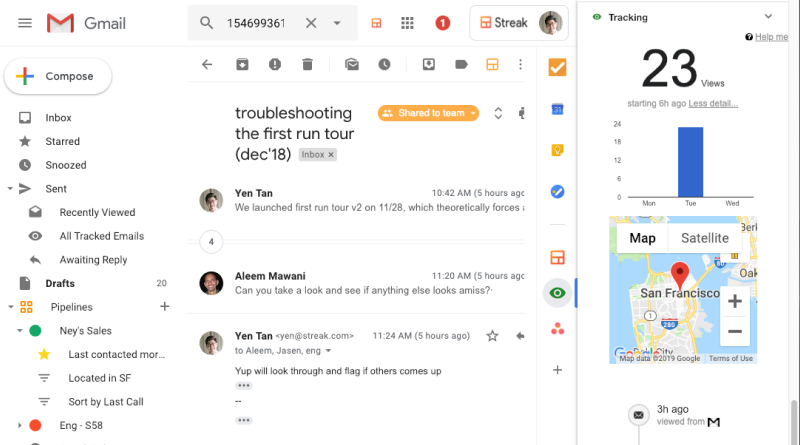 Streak is a Chrome extension that brings all the email tracking data you need into your Gmail account.
This is one of our top 10 Gmail tracker solutions because, in addition to tracking emails, the app provides you with a visual history of the viewed email, including the number of unique message views and the overall number of views.
You can track emails, schedule follow-ups, share data (contact info, files, emails, and much more) with teams, automatically capture data from the contacts and emails, and much more.
The app even connects with a CRM to help you automatically track and share the history of every tracked email with your co-workers.
If you're looking to add a Gmail tracker app to your web software toolkit, Streak is a great option to consider, especially since email tracking is available in Streak's free plan. Paid plans start at $49 a month and include advanced features such as CRM reports and task lists.
Users can also export important data to Google Sheets and use their native mobile apps (both Android and iOS) to work on the go.
7. Gmelius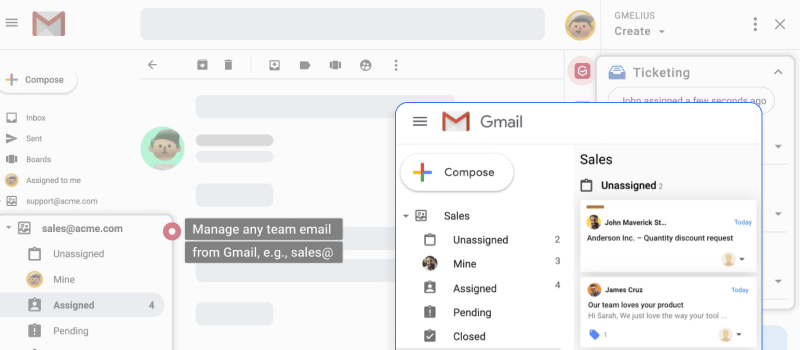 Gmelius is a free email tracker that tells you how many times an email was opened and clicked on. The app sends you a notification as soon as someone interacts with your email.
Without requiring any opt-ins or action from your recipients, the app lets you monitor your outreach once you press that send button.
Gmelius' email tracking reports allow you to evaluate the interest of your prospective customers, so you can nurture them to a sale. With a comprehensive understanding of the recipient, including location and engagement, you are in a position to implement the best outreach - with perfect timing.
This is one of our top 10 Gmail tracker solutions because it includes noteworthy features like saving email templates, calendar scheduling, and to-do list creation.
You can also take advantage of Gmelius' email tracking feature without paying a dime. Other features are available in the paid plan, which starts at $9 a month. The app can be accessed via the Safari, Opera, and Chrome web browsers.
8. Snov.io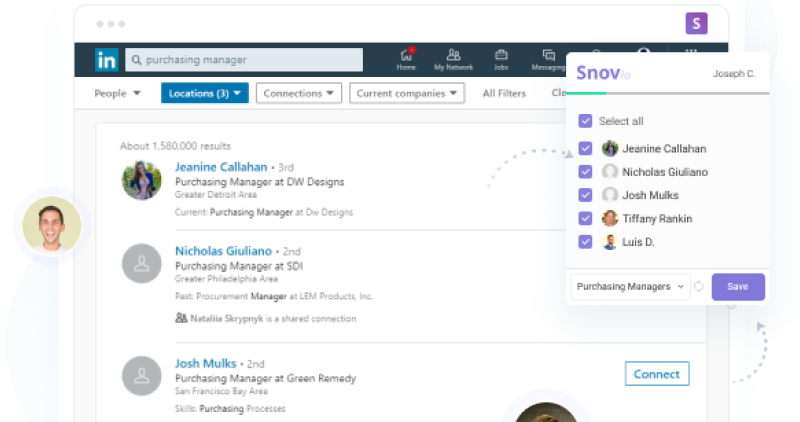 Snov.io's Unlimited Email Tracker shows you which email messages have been opened or clicked on by your recipients. Snov.io is an easy-to-use email tracking extension for Gmail.
It offers marketers real-time notifications whenever a recipient opens an email, as well as tracks the link clicks. The tool offers business owners a clear view of the most important engagement metrics, allowing them to measure the campaign's performance and use helpful insights in the future.
Other than that, a tool encourages marketers and salespeople to keep track of follow-ups and reminds a user if there are unanswered messages.
The most exciting aspect of this app and it's one of our top 10 Gmail tracker solutions is that it's free to use and doesn't add any logos, labels, or signatures to your email. How cool is that? The app works via a Chrome browser extension and is compatible with Gmail/G Suite.
9. ContactMonkey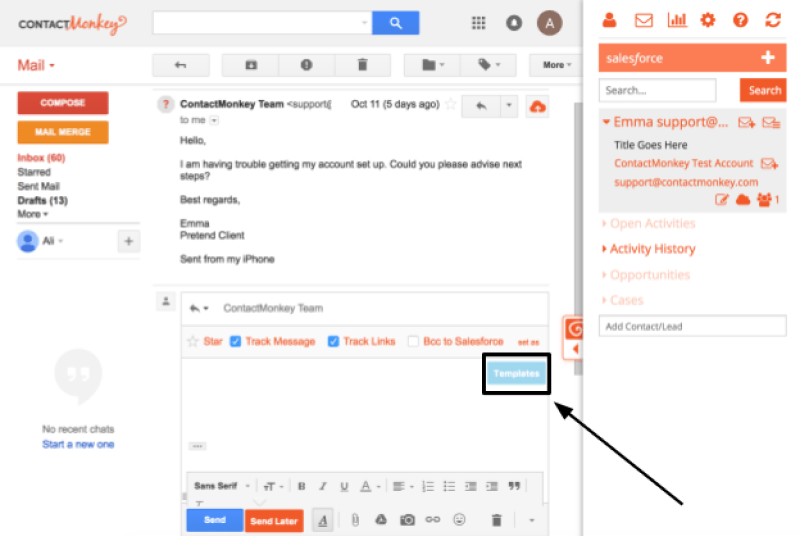 ContactMonkey makes your Gmail or Outlook inbox smarter by adding email tracking capabilities. It also integrates with Salesforce and other similar CRMs to deliver smart insights into prospective customers.
This is one of our top 10 Gmail tracker solutions because, the app's email tracking function not only shows you who opened the email, but also when, where, and on what sort of device. Plus, you get a desktop notification every time a recipient opens your email.
Additionally, ContactMonkey's dashboard helps you identify your top subject lines, locations, links, and more. You can use this insight to create targeted email campaigns and discontinue what isn't working.
The app offers a 14-day free trial for both Outlook and Gmail, after which you'll need to sign up for a paid plan. Pricing starts at $15 a month. ContactMonkey implements email tracking via the Chrome web browser.
10. Boomerang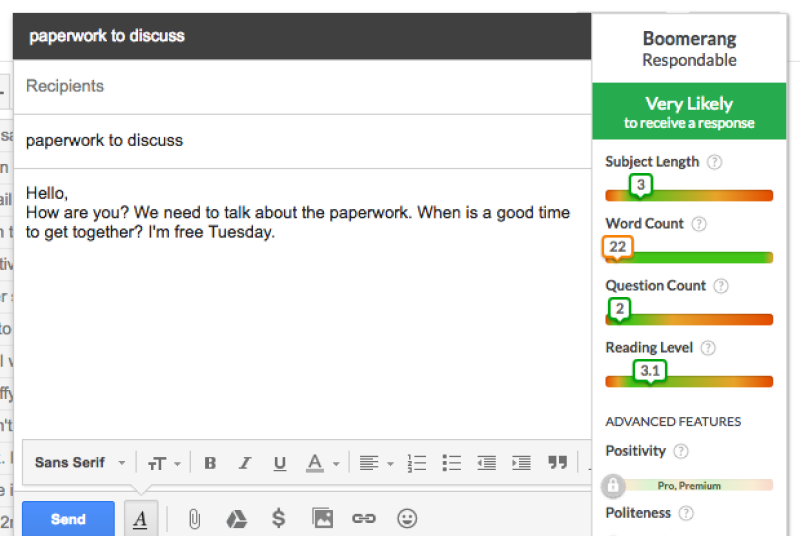 Boomerang is one of the most transparent and easy-to-use trackers for Gmail.
This is one of our top 10 Gmail tracker solutions because it allows recipients to opt out of message tracking. This way, marketers can ensure GDPR and other privacy laws compliance and maintain a stellar reputation.
Boomerang is easy to integrate into your team's workflows. It has a short learning curve, promotes collaboration-friendliness (for example, an influential meeting scheduling feature), and has an entirely usable free version.
Conclusion
There you have it: the top 10 Gmail tracker solutions, which offer several advantages. At the top of the list is making things easier for you. If you are in business, the insights gained from email trackers can help you design better campaigns that translate to increased sales and better performance. These insights are invaluable as they help improve customer experience. Gartner found that 87% of customers discontinue business with a company after a negative customer experience. That's a huge figure and you definitely wouldn't want that for your business.
So, try out a few of these options, identify the best solution for you, and start tracking!
Why don't you start your email tracking journey with OpenedOrNot today?"
Why OpenedorNot?
#1
Email Tracking for Gmail
#2
Unlimited & Free Email Tracking Tool
#3
Real-Time Notification System
#5
Daily Report Generation
#6
Advanced Tracking System
#8
Full-Fledged Tracking System
#9
Unbelievable pricing - the lowest you will ever find
#10
Everything your business needs - 50 apps, 24/5 support and 99.95% uptime
Join the SaaS Revolution
All-in-One Suite of 50 apps

Unbelievable pricing - ₹999/user

24/5 Chat, Phone and Email Support