5 Best Uses of Email Tracking System for Marketers
Tracking an email sent is critical for reaching your prospects and ensuring that your message reaches its intended recipient. Additionally, email tracking allows business owners to better understand how their company is doing based on feedback from prospects and make more informed decisions.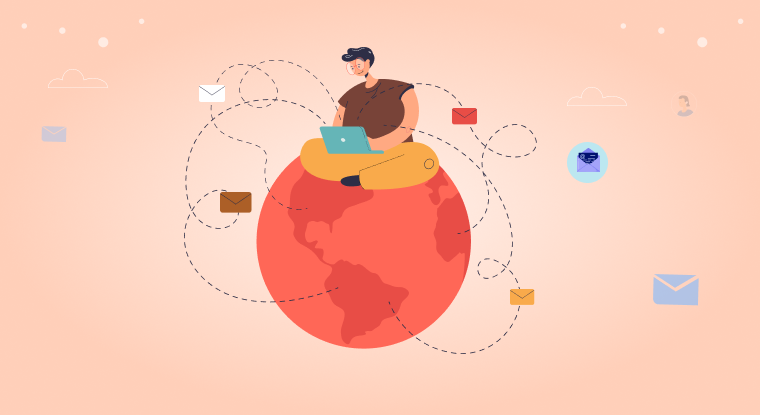 David Newman said, ""Email has an ability many channels don't: creating valuable personal touches-at scale. This shows that Electronic mail (Email) communication is an essential form of communication in the 21st century. Email is the fastest and most reliable form of communication over the internet, especially for corporate communications.
According to this tweet by Retainly, "you can reach out to anyone you want via email."
For Digital marketers, tracking an email sent is essential to reach your prospects and ensure your message gets to its target. Also, for business owners, email tracking enables you to understand better how your business is fairing with the feedback you receive from prospects and to make informed decisions. Several email tracking tools would make it easier for you to track the delivery of the sent mail. It is essential to explain how these email trackers work. According to the official website of one of the most efficient Gmail trackers, Openedornot, the process involved is:
An email tracking system essentially uses an image pixel integrated into the Email. When your prospect opens the Email, this pixel is invoked immediately, giving you alerts and notifications about when it was opened. How often do your leads open the mail and other essential details from which device? Also, you can track metrics such as delivery, click & bounce rates in real-time. Another process involved is email tracking notifying you when the Email you sent has been opened or clicked. The email tracking system places an invisible image pixel in your emails to detect the exact time and date the recipient opened an email.
For the sake of this article, we have researched to determine the best email trackers for you. We have compared these email trackers according to their pricing, specification, and user review and have selected the five. They are;
1. OpenedOrNot
Unlike other available email trackers, OpenedOrNot is a free that does not only show whether the mail was opened or not but also shows when the Email was opened, the number of times, and also if the receiver clicked on the link that redirects them to the goods and services advertised.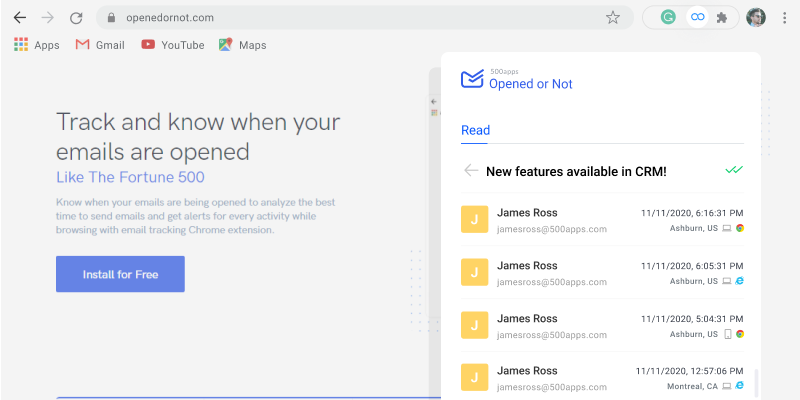 OpenedOrNot is used for email tracking and to track sales operations and engagement that might arise from opening the mail by the recipient. It works with Gmail and is also referred to as a Gmail tracker. It also helps to build email efficiency and productivity. At $14.99, you have access to over 30 apps integrated with Openornot.
2. Hubspot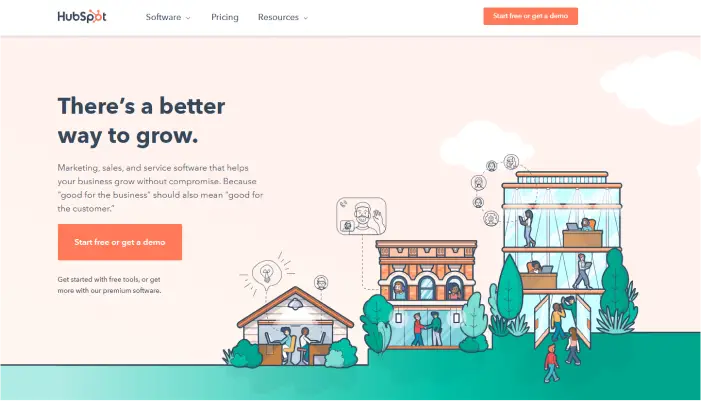 Hubspot is an email tracker with free sales tools incorporated into its email tracking functions. With Hubspot email tracking, you are notified when your prospect opens your mail, clicks an attached link, or downloads an attached file. Hubspot works with Gmail, Office365, and Microsoft outlook. This Gmail tracker also enables desktop notifications to view your lead's mail record and activity stream on the Customer Relationship Management (CRM) platform.
3. Mailtracker by Hunter.io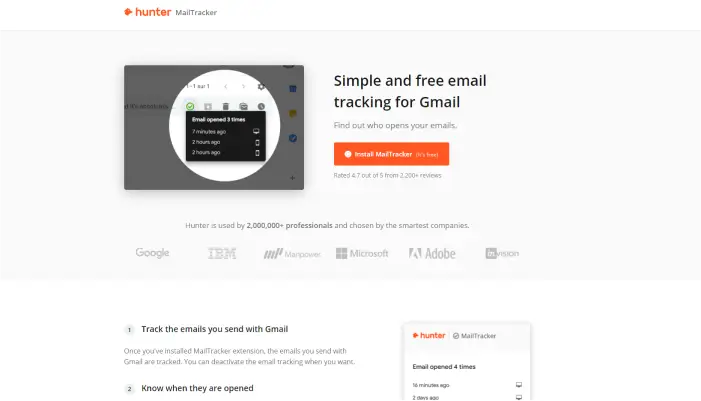 The email tracker by Hunter.io has similar functions to other email tracking systems. It notifies you when your mail is checked when it was read, and what device was used in reading the Email. The Hunter.io mail tracking extension is free for basic and does not add a logo or identifier to show the recipients that the mail is being tracked. Mail tracker supports Gmail and works as an extension in Google chrome. This Gmail tracker has a pre-paid tier that costs $9.99 per month.
4. SalesHandy

Saleshandy is an email tracking system that offers free tracking and also allows you to track unlimited emails sent to your leads who are Gmail users. This Gmail tracker also supports Outlook. Saleshandy provides tips to increase your email productivity and ensure your mail gets delivered to the prospect. It also shows a notification whenever your Email gets delivered and opened. This Gmail tracker allows you to seamlessly create and save email templates or mailing lists.
While SalesHandy is free for Gmail tracker, its Outlook regular plan is $9 per month.
5. Right Inbox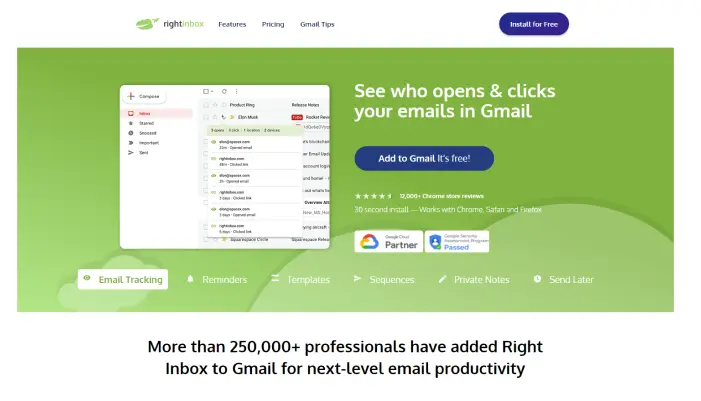 Right Inbox is an email tracker that provides: Email reminders. Scheduling features of your mail and sequence for a mailing list alongside its general features of notifying you when your mail is opened, and read. The number of times it was clicked.
Meghan Anderson said, ""don't push people (customers) to where you want to be; meet them where they are."" This explains how you need to be on top of your leads as a marketer, and you need tools such as an Email tracker to ""meet your customers where they are.""
This email tracker is a Google Chrome extension, and it works with Gmail to improve your mailing progress. The Gmail tracker has a free version. However, the single-paid plan starts from $5.95 per month, and the team plans, go for $4.95 per month, and each user in the team makes their payment.
Uses of Email Tracking Systems for Marketers
After reviewing the best Email trackers, their functions, and pricing, it is essential to highlight the uses of these Email tracking systems and why they are crucial tools for marketers. They include;
1. Saves Time
Email tracking helps to save time. When you send emails to a prospect, and they do not open it, click on it once and close it back, or they fail to download the attachment that contains the details of your product and services as a marketer, you can be sure that such a prospect is not interested in your favor. This would save you the time in preparing another mail and sending it to them, or the time you will be waiting for them to reply to your mail.
Also, with the Email tracker, you get notified when a prospect opens and is checking your mail; you are therefore aware that they are currently going through your message. You can immediately send a follow-up mail while their attention is still on your mail to establish a conversation. This would save the clients and marketers time. Instead of going back and forth on mail, you can strike the partnership while you have their attention.
2. Provides Insight
Email tracking provides a unique insight as to how to draft your mail. Drafting emails for several prospects can be a thorn, especially for marketers that provide several goods and services. With an Email tracker such as Openedornot, you are provided with adequate information about your leads. The parent app, 500 apps, has other similar apps such as Finder.io that have been developed to find the email addresses of anybody and also provide their details.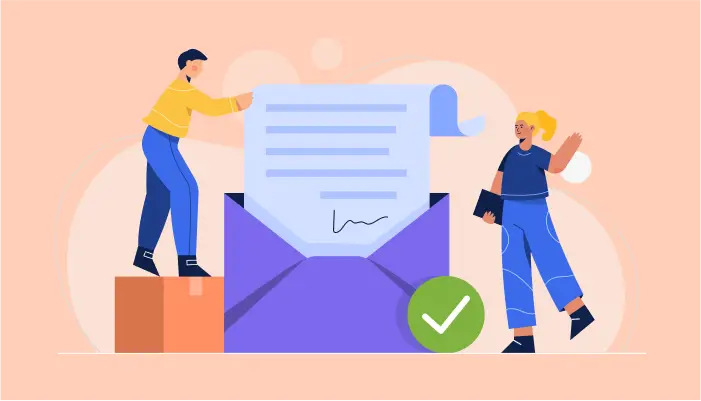 This way, you automatically get the full details of your prospects, and you can now tailor the content of your mail toward the information at your disposal. It is essential to know that people tend to develop interest and give attention to brands that pay attention to details that they can relate to; all you need to do is pay attention to these details that would interest your prospect.
3. For Scheduling of Emails
The Gmail tracker enables you to schedule your emails to be sent at the appropriate time. Knowing the best time to send an email to a lead to open and act upon it is essential. For example, your prospect might be in another geographical location with a different time zone; if you send an email at a particular time, such an individual might be fast asleep. When they wake up, other unsolicited emails might have covered yours, you can schedule the Email to their working hour, and the email tracker will deliver it at that exact time.
Also, with email trackers that provide information about your potential partners, you can get to know their official working hours and schedule your mail to that time. Some people, once they step out of their office, till the next day before they check their Inbox, emails might have piled up, and they won't be able to pay attention to yours. Therefore, you can schedule your Email to be delivered during their working hour, and you rest assured that they will open it immediately.
4. For Marketing and Sales Planning
The feedback received through the email tracking system can be used in your marketing and sales planning. Gmail trackers such as Openedornot give notifications whenever your mail is opened. If you notice that several leads do not open an email, you can determine whether that mail has a bad title or the timing is wrong. This would enable you to decide when you next want to send a similar email.
Also, an Email tracker shows how much time a prospect spends on your Email and how many times they opened the mail; this would enable you to plan how to structure your follow-up mail. If such an Email is clicked on several times, which shows that they are interested in that pitch, then your follow-up mail would emphasize the products and services introduced in the first Email.
Also, when you send emails that contain attachments or links that would redirect them to your website or other location, you are notified that the recipient has opened the Email. When they do not click on these links or download the attachments, you can deduce that such prospects have more interest in the main text and do not bother about the content in the extension. Therefore, your follow-up mail would be devoid of attachments, and all details would be in the main body of the Email.
5. Enables You to Know When to Send a Follow-up
Email trackers notify you who had opened your mail when it was opened and the number of times it was opened. This way, you get to know who to send a follow-up mail. You do not send a follow-up when you have not received a notification that your mail has been delivered or opened. If you do, the emails keep piling up, and when the prospect sees several emails from the same sender, they may move all to trash or consider it spam.
Your first cold mail to a potential partner is unsolicited primarily. You have to ensure that it is sent so that it would be acted upon and would stimulate the prospect's mind to the product or service being rendered to keep them anxious for a follow-up mail and a partnership with your business. It is with an Email tracking system that you can achieve this.
Conclusion
Until recently, emails were sent, and we moved to other activities; we do not know what happened to them; whether they got delivered to the recipient, or whether it was opened or deleted without opening them. With an email tracker such as Openedornot, emails can now be tracked to ensure that the recipients receive and act on them. It is the best email tracking tool with a flexible subscription plan.
Why OpenedorNot?
#1
Email Tracking for Gmail
#2
Unlimited & Free Email Tracking Tool
#3
Real-Time Notification System
#5
Daily Report Generation
#6
Advanced Tracking System
#8
Full-Fledged Tracking System
#9
Unbelievable pricing - the lowest you will ever find
#10
Everything your business needs - 50 apps, 24/5 support and 99.95% uptime
Join the SaaS Revolution
All-in-One Suite of 50 apps

Unbelievable pricing - ₹999/user

24/5 Chat, Phone and Email Support