11 Best Email Tracker Chrome Extensions for Your Business
Email tracker chrome extensions are the very lifeblood of any email marketing system. Email tracking puts you on the right track with regard to just how one should be reaching out to one's prospects. The eleven most prominent among these include GMass, Hubspot Sales, Fresh Sales, OpendorNot, Mailtarck and Mirmax.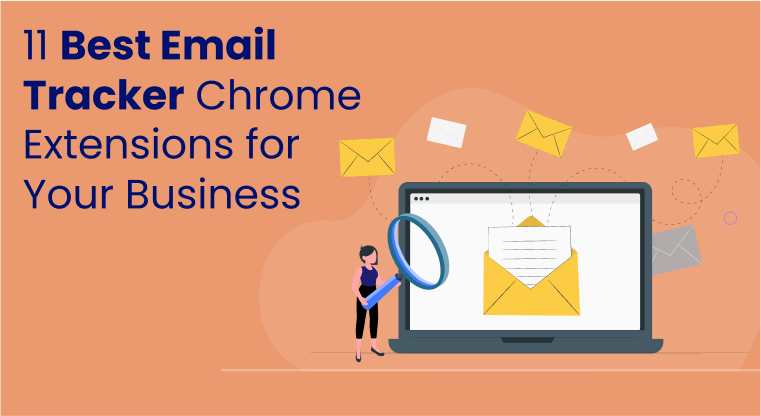 Email tracker chrome extensions are the very lifeblood of any email marketing system. Without their backing, no email marketing endeavor would amount to much. Email tracking puts you on the right track with regard to just how one should be reaching out to one's prospects. Leading email tracking systems make it possible to get a good fix on how one's email marketing campaign is faring. That marketers are obsessed with email tracking is borne out by this tweet- At one point I had my email tracking script hooked up to a time series model in R. Idea was instead of inbox zero I would do ""inbox < mu"": if I always get down to less email than the predicted mean, the mean goes down over time. Worked for a while but eventually all went to shit.
Let's look at some other major email tracker chrome extensions"".
1. OpendorNot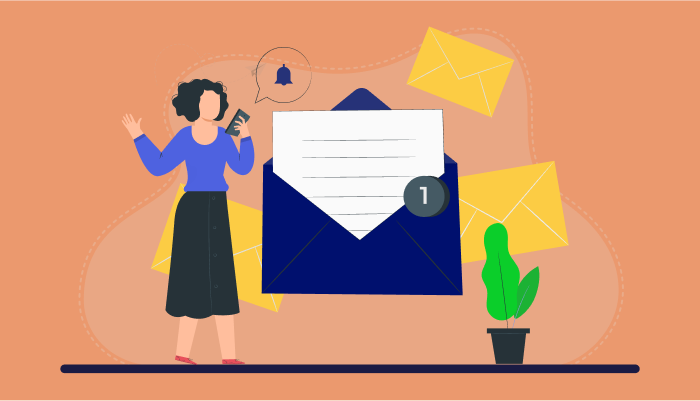 It is one of the leading email tracking tools that one can conveniently install for free. What's more, there's lots that one can do with it. Like finding out if the sent mail has been read by the recipients or not, obtain detailed information pertaining to matters such as number of times it has been read, where it has been read and how many times it has been read.
2. Hubspot Sales
If your CRM team requires to identify who all opened your email with the help of a super efficient notification system, then there won't be any better email tracker chrome extensions than Hubspot Sales in the market. It notifies you the moment a prospect opens an email enabling you to send across the perfectly timed follow up communication. That makes closing deals quickly easier than ever before.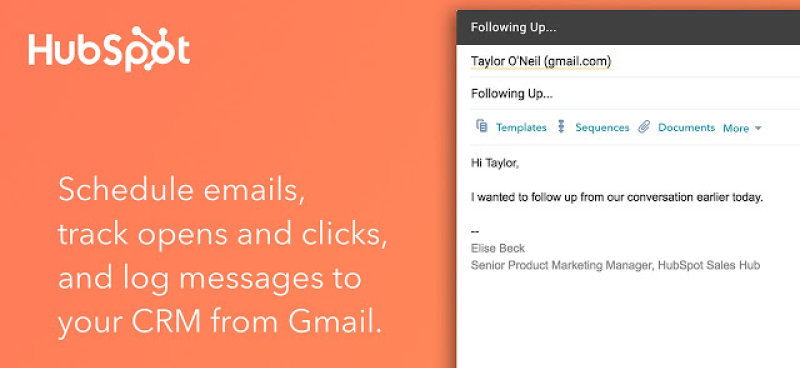 You can, in fact, get to know a lead's history and background at just a glance. Everything from which emails and links to which documents were opened and exactly what time, allowing you to craft a personalized approach to the prospect in question.
3. Fresh Sales
If your sales team is in search of a CRM tool that enables one to understand what action has a lead taken across myriad platforms, then this is among the preferred email tracker chrome extensions. It helps you zero in on your potential customers, by helping you engage with the right kind of prospects by leveraging cutting edge data driven insights leading to enhanced sales output. Besides, it helps you prune and rationalise your email list.

What Fresh Sales does more than anything else is to arm with the right kind of client intelligence that will enable you to engage with them strategically in a manner that enables you to more or less ensure that you will have sales success.
4. MailTrack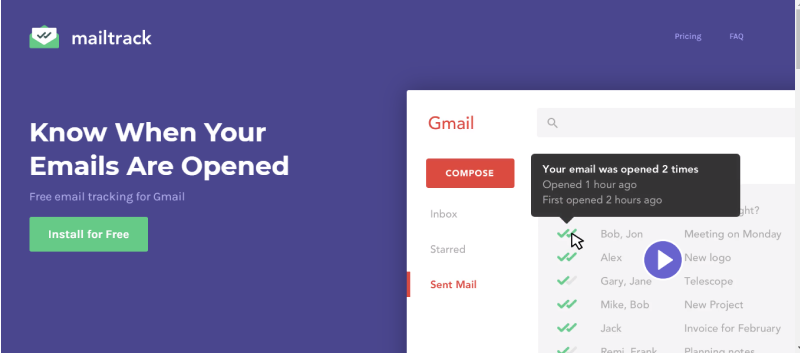 MailTrack is a nifty email tracker chrome extension for any business that seeks to enable a business to determine when their emails were opened. It enables you to follow up with a great deal of precision. You can know when exactly your emails have been read, the number of clicks that have been made and the number of times a recipient has opened an email, using the regular Gmail interface. At $29 per year per user it is quite economical too. You can check it out by availing of a free trial as well.
5. Mixmax

This is one of those power packed email tracker chrome extensions that deploys a tracking pixel to identify which one of the recipients has opened an email. Its email tracking software for Gmail lets you know when exactly someone has opened your message with the help of real-time Google email tracking alerts. Even if you mailing to a group the software will show which particular individual went ahead and opened your message, enabling you to follow in a very focused manner.
6. Bananatag

This is one is a particularly good internal communication app that empowers a business to come up with company momos and newsletters. It also helps quantify open and click rates. It helps enhance a business's reach by simplifying its workflow by connecting with the employees directory and other communication channels one is already using. Banatag's email add-ins can easily be used with Outlook, Outlook 365 and Gmail.
7. Gmelius

This email tracker chrome extension has a great reputation as a collaboration platform for teams that use G Suite. It enables teams to collaborate by way of email. It lets them take charge of their pipelines and projects, look after the customers needs and automate workflows, without having to get away from Gmail and any other apps that are being used by the company.
8. SalesHandy

This is one of the more powerful email tracker chrome extensions in the market known for its ability to track emails as well as leads with the help of notifications. Once you have installed it, you're sure to witness an enhancement in the email productivity of your business. It provides you with the wherewithal to track an unlimited number of emails for free for a lifetime. Then there are other useful features like email scheduling, email sequencing, smart email templates that come with shortcuts as well as mail merge ability strengthened with automated follow-ups.
9. CirrusInsight

An ideal email tracker chrome extension that works beautifully with Gmail and Outlook. The fact that 250,000 professionals have found Cirrus Insight in Gmail or Outlook to track email as well as attachment opens, make personalized email templates, set up email drip campaigns and manage follow ups has a dramatic impact upon marketing productivity. This is reflected in the fact that one can organize three times more meetings with customers. That apart, Cirrus Insight offers out of the world Salesforce integration.
10. LeadBoxer
This is more of a lead generation app which provides real time cutting edge information both about the email recipients and the sales process. It works wonderfully well with both Outlook and Gmail and is especially good for salespeople who are concerned about obtaining the best possible leads.
11. GMass
If you happen to be a large, an email marketer, a start up or even solopreneurs who uses Gmail for email marketing there aren't too many email tracker chrome extensions that are this good. It allows you to use GMail to launch mail-merge campaigns empowered with automatic follow up emails. Not just that-it helps create email lists by the simple expedient of searching your Gmail account.
That apart, it connects you to Google sheets and sends across email replies to the very last. thread pertaining to each recipient. It obviously meticulously tracks opens and clicks.
Conclusion
According to Dela Quist ""Signing up is a powerful signal of intent to buy. Send them email until they do.""
When it comes to email tracking software, there are a large number of them available for deployment, but not all of them are all that useful. Most of them let you know whether an email was opened or not, but not much besides. That clearly is not of great help at all.
The tools that you choose should not just help you keep a track of the email opens, but also let you know how many times an email was opened and also if it was tracked. They should not only offer line tracking, but go beyond and provide cutting edge email engagement data. The Google Chrome extensions you log into should work with the email that you are using in a manner that it revolutionizes the email marketing effort. It should really turn your emailing effort into a growth engine.
That apart, the tool in question should be easy to use, providing you with a dashboard view to obtain information about all the tracked emails at a glance. Besides, it should also be viewable on a mobile phone. An email tracker which facilitates CRM will obviously be favored by enterprise level businesses. What also matters is the price. If you are a beginner who plans to learn the ropes, then you could look at free offerings that many email tracking tool providers offer. Of course, if you are looking to get the full suite of features, you have got to be paying for them.
The great thing about email tracking is the fact that it saves marketers loads of time by automating the process of email outreach. It helps one stop chasing after prospects who are simply not interested in one's products or services. The fact that one is empowered to interact with only those who are genuinely interested in one's product or service is the greatest benefit that accrues to one thanks to using email tracking.
That makes email way better than any other form of digital outreach in that you are that much more focused in your outreach, which makes you obtain way more ROI on your investment. Our ways of communicating with people may have undergone a tremendous change, but emailing has stayed with us and is likely to, going forward.
That being stated, the method of sending emails is changing and technology these days allows us to find out what exactly has happened to the emails that we sent out.Tracking your emails can help you determine the success or otherwise of your email campaigns.
That apart, emails are also a means of sending across things like invoices, invites, contracts and so on. It definitely makes sense to track these emails as well. As a matter of fact every marketer, sales professional, recruiter, customer support executive and others like them would benefit from the information that email tracking provides. It would help them take better decisions using the insights provided by their target audience.
The email tracker chrome extensions described above are just what any business across scale and industry or individual needs to enhance their emailing capability. One can choose the one that best suits one's purpose or budget. The idea behind using these user friendly and super efficient mail trackers is not to pester anybody or stalk them, but to efficiently approach only those prospects that actually are pre inclined to buy one's products and services or at least are considering it. Using email tracking will in fact empower one to give a wide berth to those who are not interested in one's offerings. To that extent it makes email marketing that much more palatable to people.
As a matter of fact the analytics that the above tools provide help one to creatively engage with the right kind of people who would actually benefit from their communication. The fact that enail tracing can now deploy AI makes one almost always take the right call when sending out emails. One can now use audio, video and graphics apart from written content to connect with one's focused target audience in a manner that is likely to appeal to them at a very personal level.
We are in the middle of an extraordinary digital revolution which is changing the very way that we all live our lives. Email marketing these days is not the mass mail and forget kind of outreach anymore. It is much more researched and nuanced. Bespoke communication lies at the heart of the new age kind of emailing.
This is something that all businesses, marketing managers, entrepreneurs and solopreneurs would do well to get a handle on. That being stated, the best way to leverage email outreach is by doing it the right way.and there can't be a better way than leveraging the power of any of the tools described above. Email tracking is not a sinister ruse to keep a tab on others, but a way to make mailing unobtrusive and useful for the recipients. It is something that doesn't require an astronomical advertising budget and the ROI that you obtain from emailing is something else. It is not surprising that emailing has become an integral part of any business's marketing funnel. The advent of email tracking tools are largely responsible for this resurgence.
Join the SaaS Revolution
All-in-One Suite of 50 apps

Unbelievable pricing - ₹999/user

24/5 Chat, Phone and Email Support