9 Best Ways to Improve Email Open Rate
In this article, we have highlighted and examined several ways to ensure high email open rates by recipients and how you can use email tracking tools.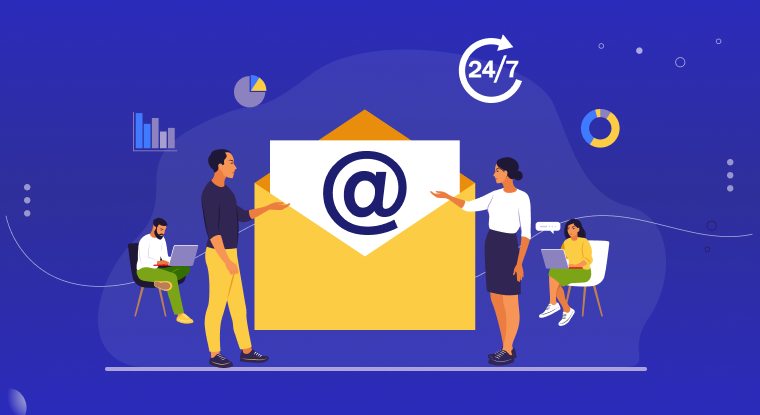 As an email marketer, running an email list or newsletter is not easy, it entails a lot; however, it is worth the stress and time spent. To make it easy to send and schedule emails, track and monitor the success of your mail, it is important to integrate email tracking chrome extension such as OpenedOrNot into your email marketing activities.
Email open rate is used to measure how recipients open your mail and act on them. You can measure the open rate by using email tracking tools. For every email marketer or brand, you have to ensure that many of your customers and recipients open your email. It is pertinent to know that it is hard for all your customers to open your email or subscribe to your newsletter; with email tracking softwares, you can increase your email open rates.
How to Enhance Email Open Rate?
In this article, we will highlight and examine several ways to ensure your customers open your mail. They include:
1. Your Display Name
The first thing that a receiver notices in your mail is the name of the sender. It is the most recognizable feature of your email even before the recipient opens the mail. To ensure that your mail stands out from among the heap of unread messages, you should ensure that your display name is unique and formal.
For personal brands or corporate individuals, always use your full name. I.e., surname and first name. Ensure you do not use generic mailboxes or email addresses in the "sender field" while sending your mail, and lastly if you are sending your mail using a company related email address or sending the mail on behalf of a company or institution, include a clear signature so that the recipient can easily run a check to know which company or institution you are affiliated to. This really helps in creating an impact on the email open rate.
2. Clear Subject Line
Another way to ensure a high email open rate is to have a properly worded line alongside your first paragraph. When drafting your subject line, try to convey the importance of your mail content and summarize your request in a few words. You can ask a rhetorical question in the subject line or insert a clear command prompt. You can also personalize the email by referring to the recipient's name in the subject line.
The purpose of having a proper and clear subject line is that it grabs the recipient's attention as fast as possible, States the action you want the recipient to take, and makes the mail easier to search for, group and refer back to.
The reason for a clear subject line is that there are phrases that potentially look like spam and can make your email message rank and move to the spam folder while your recipient is unaware of such an email existence. The clearer your subject line, the better.
3. Use Smart Scheduling
To schedule your email to the time when you will have your recipient's attention is important. You have to study when your recipients are always available to check their mailboxes by email tracking tools and schedule your mail to that period.
In a study conducted by Getresponse in 2020, over a 2.8million emails were analyzed, and the email response and engagement rate was higher between 8 to 10 am and 3 to 4 pm from Monday to Wednesday. The engagement rate dropped by Thursday and Friday.
Even though this study can not be brushed aside, it is still not a widely acceptable result. You can send your mail at this peak hour and still not get a response from the recipient. However, you can use the email tracking software to monitor the email open rate by your recipients; you can study this period over time and schedule your mail towards this period. With email tracking chrome extension such as OpenedOrNot, you can monitor when your mail is delivered to the recipient, the time they open it and also schedule your mail to that time for subsequent mailing lists.
You should also take into consideration your recipient's timezone. You can use the email tracking tool to schedule your mail for different time zones.
4. Review Regulatory Rules and Conditions
Before you start your mailing list or use email trackers to monitor your recipient's mail, ensure you comply with all applicable rules and laws. In the United States, for instance, the CAN-SPAM act clearly states all the rules and regulations to abide by personal, commercial and transactional emails. Some of the rules state that you can not use false or misleading headers and subject lines. Also, if the email is an ad campaign, it must be identified as such. For subscribers or customers who would like to unsubscribe or opt-out of your mailing list, you have to give them a way out.
For European Union residents, the GDPR for mail requires organizations to protect their personal data in all forms. The GDPR covers email marketing, spam, email safety and encryption. The European Union's General Data Protection Regulation (GDPR) covers two main areas of email messaging, to secure EU citizens' data, and make it easy for you to exercise control over your data shared over the mail.
So whenever you are trying to ensure your customers open your mail or use email tracking extensions, you should take cognizance of these laws and regulations because if you're caught violating these laws, that is a big setback for your organization.
5. Promise Delivery and consistency
Another way to ensure your customers open your mail is to deliver on what you promise your subscribers. Your customers sign up for your newsletter and agree to join your mailing list for a reason. It could be to get the latest and updated news about your products and services, exclusive deals, coupon codes, or other reasons. You should ensure that these reasons are well catered for in your mails, and always deliver updated and detailed information to your customers.
Also, be consistent with your mail and other areas such as the tone, style and language of your mail. To always get your customers' attention to read your mail, ensure that you are consistent with your mail delivery, do not derail from what you promised your customers once you are sure of winning their hearts. For instance, you can start your mail content with useful tips on how to make the best use of your products and services and use this to get the attention of your customers; after a while, you change the content of your mail to unsolicited ads or promotional contents without prior notification. This way, you are not consistent with your mail content and have failed to deliver on your promise.
So you have to ensure your mail content is consistent with what interests your customers and subscribers. You should also ensure that whatever you promised to deliver to the customers before they subscribe to your newsletter and mailing list should be delivered.
6. Always Proof-read Your Mail
Whenever you want to send out emails, ensure that they are well-vetted and proofread by professionals. It is one thing to draft the right content; it is another task to ensure it is well arranged and articulated. Your arrangement should be systematic or chronological. Ensure that your points are well laid out and easy to understand by your customers.
For professional or technical-related emails such as neuroscience, medicine, engineering, petrochemicals, ensure that seasoned professionals go through them and certify them okay before sending them out to the customers. Also, your choice of words and terms should be as clear as possible. Avoid the use of ambiguous terms or those technical terms that have different meanings. Misuse of terms or wrong spelling can cause irreparable damage in this kind of mail if not well proofread.
In addition, the proofreader should check all attached links and media attachments to the mail before final approval. Ensure that the links attached lead directly to where you want them to lead your recipients to; also, the attachments should contain the correct files. All these need to be adequately checked to ensure that there is no error. When you make these mistakes, your customers might find them easy to spot, and when they become too frequent, these customers might unsubscribe from your mailing list or even stop opening your emails.
7. Be Straightforward
Always ensure that the content of your mail is straightforward. Avoid beating around the bush or adding irrelevant pieces of information to your email. Your email tracker helps you to identify the attention span of your customers.
Most times, your customers and mail recipients do not have the luxury of time to go through tons of information; once you are not straight to the point, they close the mail and move to the next one. You should therefore ensure that while you still have their attention, they can grab the important information in your email, and the best way to achieve this is to keep the content of your mail short and straight to the point.
If your email is out to introduce your customers to a new product or service, immediately after the introduction, move to the product's name, its description and the benefits they tend to derive from using the products and services. This way, you can pass the message across in a simple and direct term. When you adopt this style, you rest assured that your customers will always open your mail.
8. Promote Your Email List and Make it Available
You can make your email list available on your website or social media accounts. By doing this, eager and interested subscribers will find your mailing list and join them. This set of customers will always be on the lookout for your mail and open them.
Also, you should promote your mailing list on your social media platforms and website. You can add direct links on your website and social media platforms to automatically add internet users to your mailing list when they click on the link and accept the terms and conditions.
9. Keep Your Email Interesting and Valuable
This is no rocket science; people tend to open emails that are interesting to read and add value to their life. Your email could be in the form of educational content or expository articles; ensure that the email interests your customers and they will always be eager to open it. You can use an email tracker to identify the kind of mails that interest your customers.
For example, financial institutions can always send emails that will keep their customers informed on how to secure their account, transaction details and be ahead of fraudsters. This kind of information can be drafted using practical examples of how fraudsters have had unauthorized access to someone's account and left them indebted; this kind of email will be interesting to read as you will want to know how it all ended and derive valuable information from it.
Conclusion
"Email has an ability many channels don't: creating valuable personal touches-at scale." – David Newman
Email is an effective medium for reaching your customers directly. And to ensure your customers open your email, you can use the email tracker to monitor the activities of your customers with your mail to plan better and know how to serve them the right content, among other ways highlighted above.
Why OpenedorNot?
#1
Email Tracking for Gmail
#2
Unlimited & Free Email Tracking Tool
#3
Real-Time Notification System
#5
Daily Report Generation
#6
Advanced Tracking System
#8
Full-Fledged Tracking System
#9
Unbelievable pricing - the lowest you will ever find
#10
Everything your business needs - 50 apps, 24/5 support and 99.95% uptime
Join the SaaS Revolution
All-in-One Suite of 50 apps

Unbelievable pricing - ₹999/user

24/5 Chat, Phone and Email Support