How to Track Email Opens and Clicks in Gmail
Email open tracking helps to keep track of the number of people who open each email you send.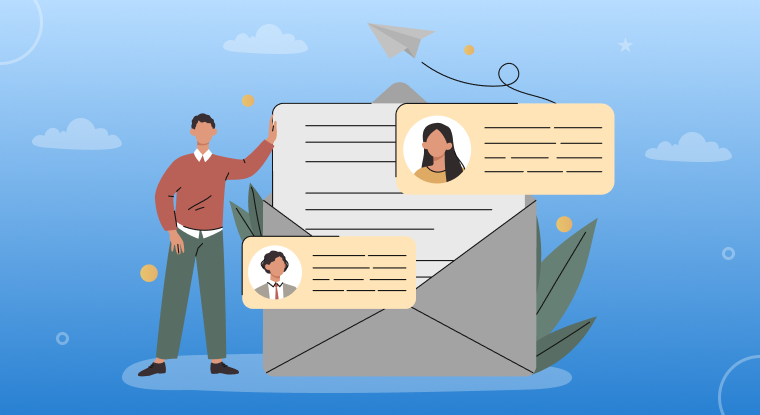 Have you ever sent out an email newsletter using Gmail that didn't get many responses? You may not be the only one. Many small businesses and entrepreneurs struggle with getting enough people to open their emails and take action, such as making a purchase.
This is where email open tracking comes in handy. You can't know if individuals on your list are opening your newsletters unless you use email open tracking. Email open tracking is when you keep track of the number of people who open each email you send. This article will explain the advantages of enabling email open and click tracking in Gmail.
2 Ways to Track Email Opens and Clicks in Gmail
This article will explain how two different methods of Gmail link tracking work and their limitations. The first method is setting a tracker pixel and link tracking in Google Analytics. The second method uses a read receipt in Google Workspaces, and the third method adds event tracking in Google Tag Manager. Each method has its strengths and weaknesses.
Method #1: Track Email Opens Using Gmail Read Receipts
Google's Read Receipts option lets you know whether your emails were opened, but it may be unreliable. Remember that you can turn off the Read Receipts feature in your Gmail account, so if this option is enabled, it may not work for you. Additionally, you can use this feature only if you have a paid Google account.
Steps to Follow:
Ensure that you have administrator privilege.

Open Google Workspace Admin console.

Navigate to Apps > Google Workspace > Gmail > User Settings by following this link: https://admin.google.com/ac/apps/gmail/usersettings

In the Email read receipts section, select the options that best apply:

Allow gmail read receipt to be sent to all addresses in my organization and the whitelisted email addresses. If you enable this option, you can send receipts to email addresses within your domains and any external email addresses that you specify. The addresses can be up to 256 characters long. The receipt will be returned to the domain address. If you do not include any email addresses, users can only return receipts to email addresses within your domains or organization. The whitelist can include up to 100 email addresses, each with up to 256 characters.

If you enable the Prompt the user for each read receipt request setting, it asks users each time they open an email if they want to send a receipt. You can uncheck this to send read receipts with each message automatically.

Let all email addresses request and receive read receipts — This setting allows read receipts to be requested and returned to email addresses outside your organization. When users send an email, they are prompted to request a receipt.

Click Save.

Once you have enabled receipt confirmation, you can request a receipt when you send an email. When composing an email, click on More options and select Request read receipt.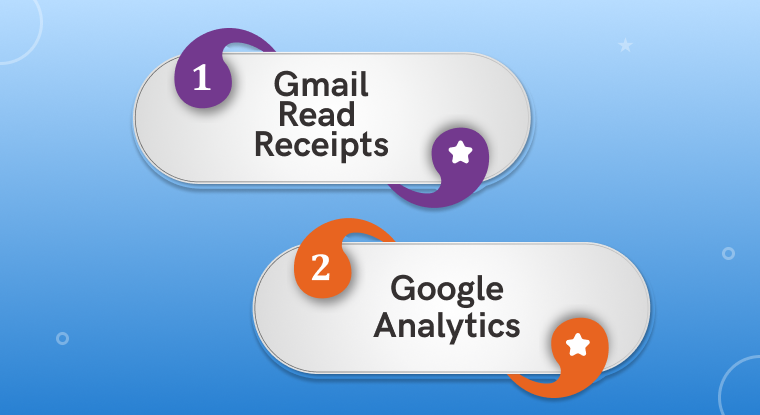 What Are the Cons of Using Read Receipts in Gmail?
While efficient, tracking email opens using read receipts has some disadvantages:
Read receipts are available only in paid Google Workspace accounts. They aren't available in free Gmail accounts.
To activate the read receipt feature, the organization's administrator needs to set the feature.
You can't count on read receipts indicators. If someone doesn't send the read receipt, there's no way of knowing whether or not they've opened your email. So you might as well forget about this method.
If you plan on sending an extensive email campaign, this method may not work well. Gmail read receipts are not enabled on large email campaigns.
Method #2: Track Email Opens and Clicks with Google Analytics
The tracking pixels used by Google Analytics for open tracking websites rely on a unique one-pixel image being downloaded by the website visitor. Google introduced the Google Image Proxy to download images via a proxy operated by Google.
The aim of inserting the proxy between the end recipient and the email marketing service's server was to obfuscate the download location, preventing email tracking software from recognizing the specifics of an email open, such as where it was opened or what device was used.
The proxy is intended to protect these details from email marketing services that use traditional tracking pixels. If you don't set up your link-tracking software or track pixels correctly, link monitoring and tracking reports may be inaccurate.
Furthermore, email open tracking is slightly more complicated than other web page tracking. The link you use to the reports should start with google to indicate that you're using a Google Analytics report. Otherwise, the Google Analytics software will not understand where the page is located.
Another complication is that you need to use UTM parameters in the link you include in the email. Use the Google Campaign URL Builder tool to create a custom URL with UTM parameters.
To generate trackable URLs for websites, use the Google Analytics Campaign URL Builder.
To generate URLs for apps on the Google Play Store, use the Google Play URL Builder.
To generate URLs for apps on the Apple App Store, you need to use the iOS Campaign Tracking URL Builder.
In the website URL field, enter the website/landing page URL.
In the Campaign ID field, type in the ID of your email campaign.
In the Campaign source field, enter your referral source (your email newsletter campaign).
In the Campaign medium field, enter your marketing channel (such as email).
Use the Campaign name (utm_campaign) field to analyze keyword-based campaigns.
Use the Campaign term (utm_term) field to identify keywords for paid advertising.
Use the Campaign content (utm_content) to conduct A/B tests and run ads pointing to the same tracking URL.
After you've created a tracking URL using Google's URL builder tool, add the hyperlink to your email. Click the hyperlinks in your email to track where users sent the transformed tracking link. Check the real-time reports in Google Analytics to view where users are clicking.
What Are the Cons of Using Google Analytics to Track Email Opens and Clicks?
Using Google Analytics has its fair share of disadvantages when used for tracking email opens and clicks:
If the recipient's email client is set to block images, Google Analytics will not track who opens your emails.

Google Analytics will not display reports as in-depth as Gmail Mass can create.

Google Analytics cannot follow who opens or clicks a link in your email (except for giving you demographic data).

Google Analytics cannot track how many people opened your email at least once.

Google Analytics cannot provide a click-tracking report within Gmail.

Google Analytics may report a false open if the recipient's email client is set to block images.
The Relevance of Google's Image Policy in Gmail Tracking
In 2013 and 2014, Google changed its image policy in Gmail. Specifically, it started automatically downloading all images that appeared in an email on California-based Google servers. When the recipient opens an email, the image will load from Google's server and not the original sender.
Before, the tracking pixel would automatically detect the recipient's physical location. The gmail tracker pixel will tell the sender that the recipient is located in California, where Google proxy image servers are located.
In 2019, Google launched another large-scale Gmail update that allows senders to include forms or surveys that the recipient within the email body can fill out. For example, a hotel chain could let users view open rooms and book a stay without leaving their email.
Dynamic emails require images to load automatically, so users can save time on loading pages by disabling automatic downloads on Gmail. It looks as if Google is giving users an incentive to allow tracking through this policy.
Gmail's Image Policy
After the policy allowing proxy servers to make images load slowly came into effect, some people wondered whether image tracking would be rendered useless, but that's not the case. You can still track opens by installing a tracking pixel on the images, and link tracking is still possible.
Since Google's proxy servers have nothing to do with link tracking, linked email messages are still geolocation-based. Google encourages email marketing programs to emphasize links because they help track the location of a message's recipient.
Some people were worried that their marketing software could mistakenly report false opens if Google was downloading email images on its own host; after all, the tracker would assume that the message had been viewed. But it turns out that Google does not resend any false opens when it downloads a linked email.
Conclusion
Gmail open tracking is valuable in measuring the effectiveness of email campaigns. It enables you to see who opened your email and when. This insight can help you discover the most effective types of content to send your audience. You can also see which kind of demographic information is associated with your email openers, such as the age range of your target audience.
Gmail open tracking has many advantages over other open tracking apps or services. You can track your email campaign from your Gmail account and see the reports. Plus, Gmail open tracking is free and easy to use.
OpenedOrNot offers email tracking for Gmail for free! Our tracker provides data on email activity, including timeline, location, and logging device. You can get real-time notifications of who opened your email and links and read receipts indicator in Inbox and sent folders. We are building the future of business growth, and we'd like you to come with us! Sign up on OpenedOrNot now!
Why OpenedorNot?
#1
Email Tracking for Gmail
#2
Unlimited & Free Email Tracking Tool
#3
Real-Time Notification System
#5
Daily Report Generation
#6
Advanced Tracking System
#8
Full-Fledged Tracking System
#9
Unbelievable pricing - the lowest you will ever find
#10
Everything your business needs - 50 apps, 24/5 support and 99.95% uptime
Join the SaaS Revolution
All-in-One Suite of 50 apps

Unbelievable pricing - ₹999/user

24/5 Chat, Phone and Email Support