Best Email Tracking Providers on Chrome Web Store in 2022
There is an array of email tracking providers available on Chrome Web Store that cater for a range of email marketing scenarios. The right package for you should enable the intelligent scheduling of email and provide clear and precise analytics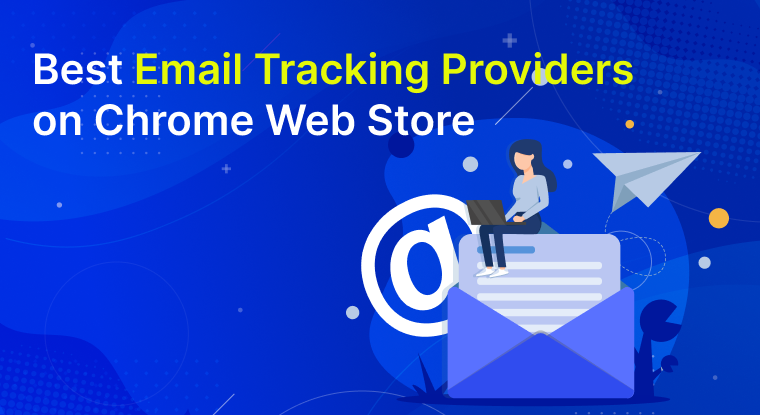 In today's marketing space, email tracking is vital, especially for providing insight into customer behavior. These are the best email tracking providers available on Chrome Web Store.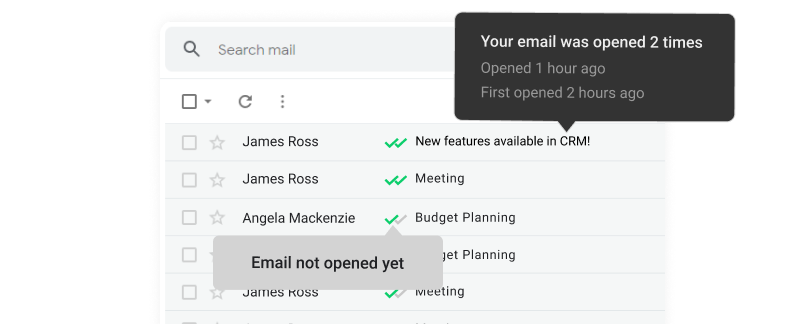 The Chrome Web Store lets you publish apps and games, either free or paid, where Google Chrome users can easily find them. Whenever Chrome users create a new window or tab, they see the apps they've installed and a store icon that reminds them to find more apps.
You can create and publish an app specialized for Chrome, such as an extension for Chrome or a web app that's been modified to be downloaded and run on the user's computer.
Email tracking providers are also available on Chrome Web Store. Whether you are a business owner, a marketer, or a sales manager, there are many ways tracking emails benefits you. Depending on the type of messages you send, the approach to email tracking can change - for example, marketers need to gather data for large-scale campaigns. Finding a single platform that meets the company's entire marketing and sales team's needs is challenging.
Let's help you streamline your search. Here are some of the best email tracking providers on the Chrome Web Store.
Who Uses an Email Tracking Provider?
The email tracking providers are most beneficial to:
Marketers
Executives
Recruiters
Customer Support, and
Sales Professionals
How Does the Email Tracking System Work?
Every email tracking provider inserts a small image like 1x1 in dimension in an email. When the email containing this tracking pixel image is opened, you will get notified automatically.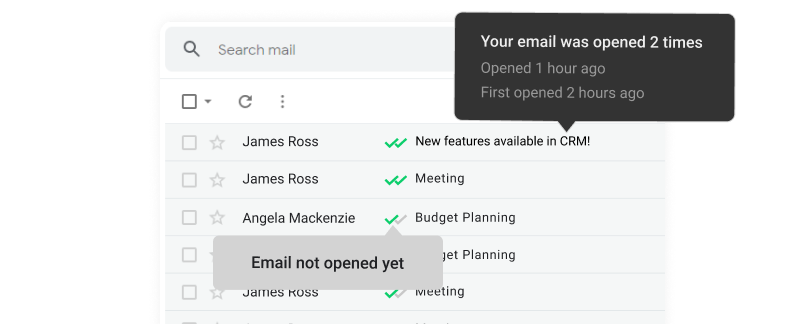 Best Email Tracking Providers on Chrome Web Store - 2020
There's more to email tracking than spying on readers. Plenty of white-hat solutions allows marketers to collect open rates and engagement metrics as they send emails. The universal opinion in marketing is that tracking emails is crucial for an efficient campaign. Here are the best email tracking providers on Chrome Web Store in 2020
1. OpenedOrNot

Join 30,000+ users as they analyze the best time to send emails and get real-time alerts for every activity on your email while browsing OpenedOrNot. This email tracking provider gives you seamless email tracking for gmail.
Get real-time notifications whenever your email is opened, and links clicked. If the recipient has OpenedOrNot installed, get the recipient's information to know more details.
With this email tracking provider, you can also summarize your sent emails and get analytics on how many emails are opened, undelivered, and delivered to optimize email marketing efforts.
It has a free plan with limited features. You can remove the OpenedOrNot watermark, get email not-opened reminders, and advanced email statistics by signing up for OpenedOrNot Premium. Download and install the Chrome extension from the Chrome Web Store and register for free to track all emails from Gmail automatically.
2. Snov.io
Snov.io's Unlimited Email Tracker shows you which email messages have been opened or clicked on by your recipients. Snov.io is an easy-to-use email tracking provider for Gmail.
It offers marketers real-time notifications whenever a recipient opens an email and tracks link clicks. The tool provides business owners a clear view of the most important engagement metrics, allowing them to measure the campaign's performance and use helpful insights in the future.
This email tracking provider also encourages marketers and salespeople to keep track of follow-ups and reminds a user if there are unanswered messages.
The most exciting aspect of the app is that it's free to use and doesn't add any logos, labels, or signatures to your email. How cool is that? The app works via a Chrome browser extension and is compatible with Gmail/G Suite.
3. Mailtracker - Hunter.io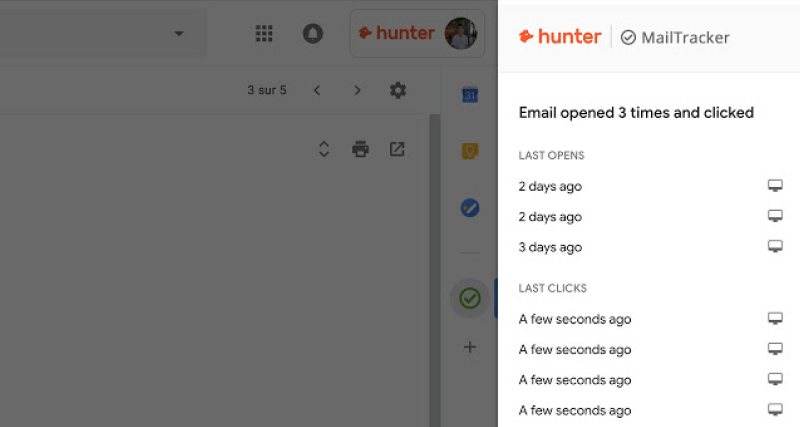 Once you've installed the MailTracker extension, the emails you send with Gmail are tracked. You can deactivate the email tracking when you want. This email tracking provider adds an invisible image to your emails. This image is loaded when the email is opened by the recipient and allows you to be informed. Similar email tracking tools use this technology like MailTrack, Streak CRM, Hubspot Sales, Yesware, Bananatag, or Mixmax. With this email tracking provider, you can also find out the device used by the recipient to open the email to know if it was opened on a desktop, mobile, or tablet.
4. Right Inbox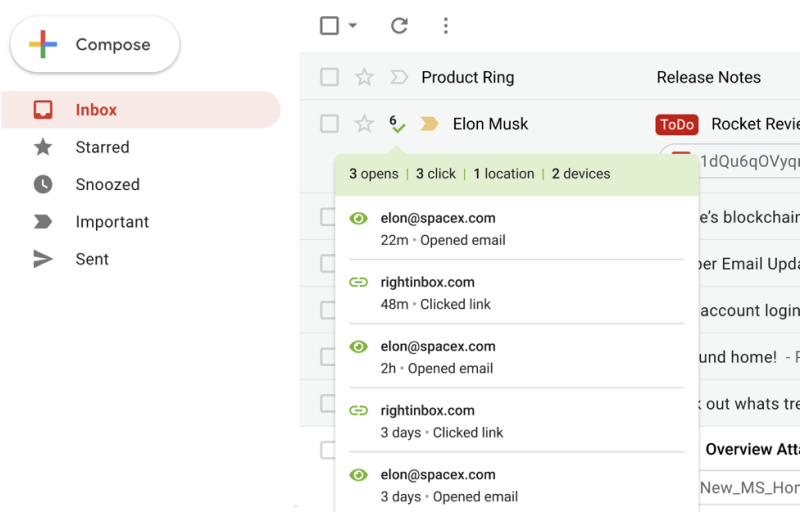 Right Inbox is a Google Chrome extension that works within Gmail to supercharge your emailing efforts. Find out who reads and clicks your emails, how many times, and when with the email tracking feature.
This email tracking provider has a limited but functional free version that gives marketers full access to open rate and click tracking and the tools needed to schedule campaigns, build automated email sequences, and get real-time follow-up reminders.
Right Inbox offers a ton of email personalization features as well. For example, you can adjust your sign-off depending on the situation, writing some emails as a marketing manager, others — as a designer, yet others — as a CEO.
One of the best aspects of this email tracking provider is its flexible pricing model. Install the app, and you'll immediately be able to use many of the best features free of charge, but with ten emails a month limit. Alternatively, if you prefer a life with no limits, pick a monthly subscription — with pricing starting at $5.95.
5. Mailtrack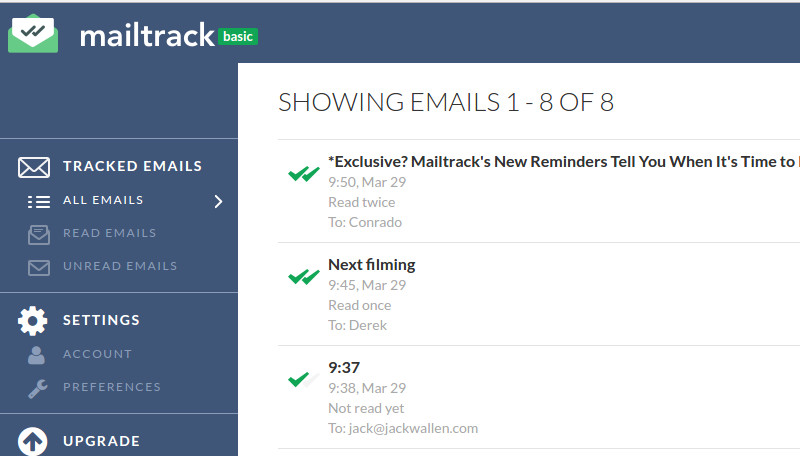 Mailtrack is another Gmail email tracking tool that works as an extension in Google Chrome. Perhaps one of the most capable, This tool offers at-a-glance engagement information.
Mailtrack is a simple email tracking provider that tells you if the emails you sent have been opened or not. The app adds two checkmarks to your Gmail account. A single checkmark implies the email was sent, while the double checkmark indicates that it was opened.
In the paid version of this email tracking provider, you also get a daily statistics report regarding the emails you sent the day before. The app provides data on:
Percentage of emails read
Number of messages sent
Percentage of links clicked by the recipients
Mailtrack's email tracking functionality is free to use. For daily reports and other advanced features, you'll need to sign up for the app's pro version, which starts at $4.99 a month.
6. MailTag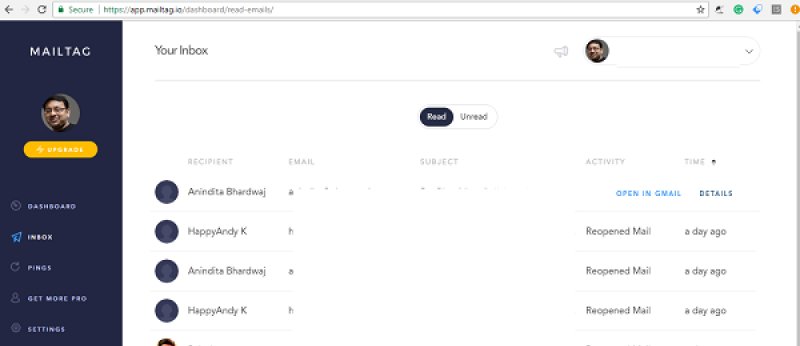 MailTag is one of the few available tracking tools that also gives you a high-level look at your overall open rates, link-click rates, and more. This email tracking system lets you know if and when your sent email was opened in real-time. Users can receive real-time desktop alerts when their emails have been opened and track open rates, link-click rates, etc.
Apart from email tracking, Mailtag helps you increase your open rates by allowing you to schedule your emails to be sent at the perfect time.
Users can also automate email follow-ups by what Mailtag calls """"Automated Pings,"""" which sends automated emails to remind prospects and increase your open rate.
This email tracking provider has a 14-day free trial. For other advanced features, you'll need to sign up for the app's pro version, which starts at $9.99/month (billed annually).
7. Yesware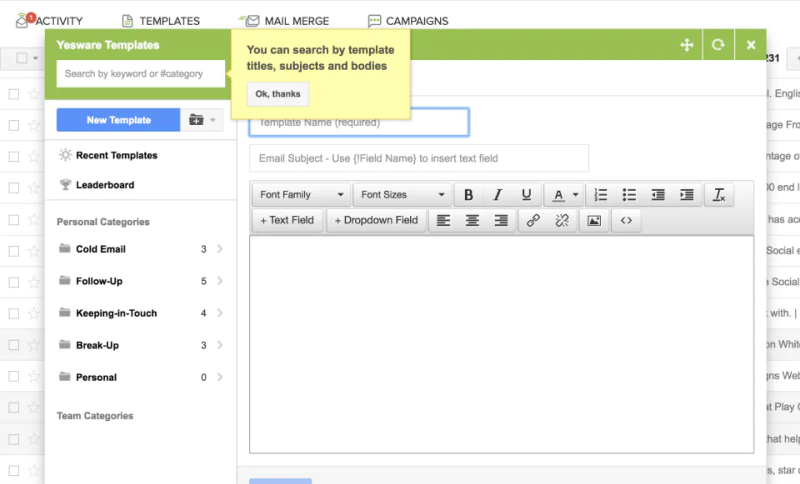 Yesware is one of the few email service providers aimed more toward sales teams than marketing—and the email tracking they offer reflects that. With this email tracking system, sales reps can monitor leads and their email behavior throughout the customer journey. The reporting features also measure outbound prospecting performance and individual template performance.
However, email tracking in Yesware can only be accessed through a paid plan. Pricing starts at $12 a month, but there's a free trial that you can sign up for to get a feel of the app's functionality.
If you're using Gmail, the app will add an interface to your account that lets you access the tool's email tracking features directly from your Gmail inbox. This email tracking system can be installed via a Mozilla Firefox or Chrome browser extension for other email clients and software.
8. Gmelius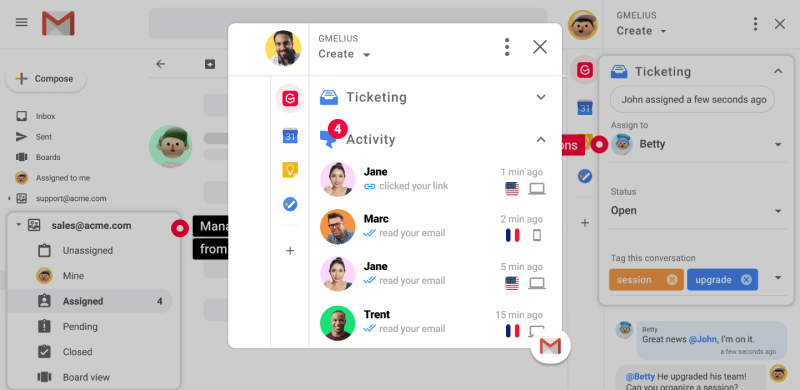 Gmelius is a free email tracking system that tells you how many times an email was opened and clicked on. The app sends you a notification when someone interacts with your email.
Gmelius is a platform for email collaboration. It allows teams to interact with emails without leaving a Gmail inbox. It also comes with various automation, templates, and notifications (for Slack and mobile).
Email tracking lets you check opens and clicks. It also sends notifications whenever a message is opened. As with MixMax, you can also distinguish interactions from different recipients included in the same message.
A free plan is available, and it allows you to track link opens without any limits. With paid plans (starting from $9/user/month), you can track clicks and access many other related features.
9. MixMax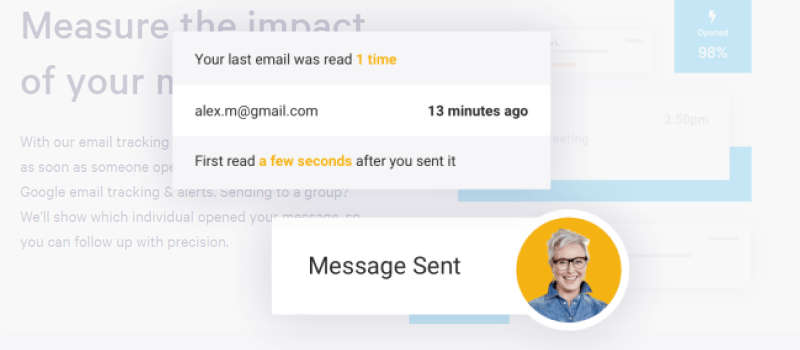 MixMax is another solid email tracking system that allows you to see when and if someone reads your email. The basic functionality of the app informs when an email is opened and how many times. With group emails, you can also see who exactly opened the email.
MixMax is a platform for email outreach. It offers tools for personalization, building workflows, or scheduling meetings. On top of that, email tracking is also available.
This email tracking provider informs you when an email is opened, and it can also track the number of opens. It can distinguish who opened the email, even if you send it to a group of addresses.
A free plan is available, which allows for tracking up to 100 emails per month. A """"Sent with MixMax"""" signature is also added to each email on this plan. Premium plans are available from $24/user/month.
Conclusion
Email tracking is a must-have practice for marketing managers, especially concerning improving customer experience. Marketing blogger Joe Chernov said, ""Good Marketing makes the company look smart. Great Marketing makes the customer feel smart."" It provides teams with insights into how their campaigns perform and introduces business owners to new ways of optimizing workflows. According to Gartner, tech companies are using mobile, social, and CRM technologies to grow and scale sales and marketing. Email tracking is one of these technologies.
It's worth noting that a single email tracking provider rarely covers all needs of marketing and sales teams. Business owners should research several platforms and create a toolset that helps gather as many relevant insights as possible. Since most of the tools featured above come with free trial versions, maintaining a tracking toolset typically isn't expensive.
The correct email tracking provider isn't a one-size-fits-all solution. Sometimes, all you need is a quick add-on to tell you whether or not individual recipients open your emails. Other times, you need a full-featured email marketing software with an eye toward robust reporting.
No matter what your needs look like today, any of the tools above are available on Chrome Web Store. These providers will help you better measure and improve your email game, and in the end, that's what it's all about, right? And there's no better place to start than OpenedOrNot. You can find it on Chrome Web Store.
Why OpenedorNot?
#1
Email Tracking for Gmail
#2
Unlimited & Free Email Tracking Tool
#3
Real-Time Notification System
#5
Daily Report Generation
#6
Advanced Tracking System
#8
Full-Fledged Tracking System
#9
Unbelievable pricing - the lowest you will ever find
#10
Everything your business needs - 50 apps, 24/5 support and 99.95% uptime
Join the SaaS Revolution
All-in-One Suite of 50 apps

Unbelievable pricing - ₹999/user

24/5 Chat, Phone and Email Support