How Does Read Receipt Help in Tracking Emails?
Get to know about how read receipts play a major role in tracking emails of clients
A read-receipt tracking technique is used by some email clients, such as Microsoft Office Outlook and Mozilla Thunderbird. Prior to sending the message, the sender selects the reception request option, and each receiver has the option of alerting the sender that the message was received or read by the recipient. Unfortunately, seeking a receipt does not ensure that one will receive one for a variety of reasons. Read receipts are not supported by all email apps or services, and users may typically disable the capability if they so want.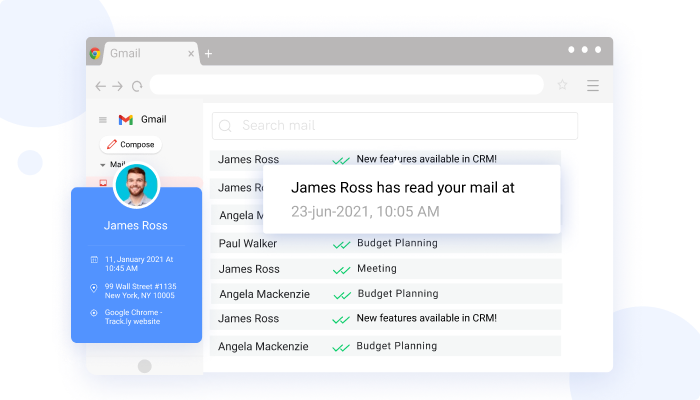 Those that do support it may or may not be compatible with or capable of recognizing requests from another email service or application. Read receipts are often only helpful within organizations if all employees/members use the same email provider and application. Depending on the recipient's mail client and settings, they may be required to click a notification button before they may continue working. Even though it is an opt-in procedure, a receiver may find it cumbersome, disrespectful, or intrusive. Read receipts are returned to the user's ""Inbox"" as email messages, although the placement might vary based on the software and its settings. Additional technical information, such as who it is from, the email program they use, the sender's IP address, and their email server, is frequently visible inside the read receipt's Internet headers.
Sending a Read Receipt Through Gmail
If you want to know when someone reads your email in Gmail, the only reliable way to do so is with email tracker read receipts. You can check who opened your email and when using a simple plugin. It is compatible with free and Google Workspace Gmail accounts. Unlike other existing email trackers, Openedornot not only indicates whether or not the email was opened, but it also tells when the message was opened, how many times it was opened, and whether or not the recipient clicked on the link that takes them to the goods and services offered.
Why Are Email Tracking Tools Necessary?
Sales and marketing are not for the faint of heart. This is largely due to the difficulty in identifying and addressing the appropriate target audience. Aside from that, there's the reality that you're usually up against a lot of competitors. Email marketing is one of the most effective ways to reach out to your target market and pique their interest in your product or service offers.
1. Assists You in Creating an Automated Process
With the exact data analytics it provides, email marketing software assists a firm in establishing an ordered workflow. Email automation processes might assist to rationalize the day-to-day tasks of the email marketing team. The existing email automation procedures eliminate the need for separate team members to be assigned to send out emails or respond to them on a regular basis.
By totally automating your operations, you may make your emails far more efficient than otherwise. You may send targeted emails to people who have registered to your email list, people who have visited a certain website page, or people who live in a specific zip code. In other words, it allows for precision segmented outreach that is prepared to elicit a reaction.
2. Contextual Data is provided
It gives highly important statistics such as the day of the week when the majority of emails are opened by prospects. You learn what kind of subject lines work best for the lead in question, and you even get a sneak peek inside the prospect's social profile. One has a far better grasp of how to write the type of email that will elicit a response.
Emailing is not the easiest activity, and writing the content for an email is especially difficult. Email tracking simplifies this process by giving contextual data about one's prospects.
3. Allows You to Verify Contacts
Email tracking informs you whether or not someone from a specific address has accessed the email, allowing you to authenticate it. For an email marketer, validating emails provides a plethora of advantages. It improves the delivery rate to 98 percent, and because you will send emails to valuable addresses, you will significantly raise your ROI. This will be due to the increased conversion rate obtained as a result of more of your emails appearing in the inboxes of your prospects.
There are several methods for validating email addresses. You may, for example, make it easy for a client filling out their email address to utilize an auto-complete option that reduces the possibility of making an error. You may also use a third-party application that provides real-time feedback on the correctness or incorrectness of an email address. Another option is to have a double opt-in. When your consumers sign up for email, you may send them an email asking for validation via their answer.
4. Increases Engagement
You may follow up with your prospect once you know they clicked on the link you provided them and expressed interest in your product. However, worrying about clicks is not the sole aim of email marketing. It is all about developing relationships. It is all about having personal, intimate interactions with individuals in order to grow those relationships.
Email monitoring informs you of the effectiveness of your promotion/campaign/notification. It operates in the background without interfering with the receiver. Before we go into how email tracking works, let's take a look at what we can accomplish with it. We can learn when and on what device the receiver opened the email and when to follow up. We can also learn how many times the email was opened. You'll begin to write better emails.
Conclusion
Every action performed by the prospect may be recorded and timed using email tracking. The more times an email is read and a link from you is clicked, the greater your engagement with a prospect will be. The sales achievements achieved by such tracking can be duplicated in the case of future prospects. This is likely to have an enormous effect on the efficiency of any email marketing effort. The ROI will rise much greater than it is now. Machine learning and cloud computing are two more technologies that are expected to have an influence on email marketing and tracking.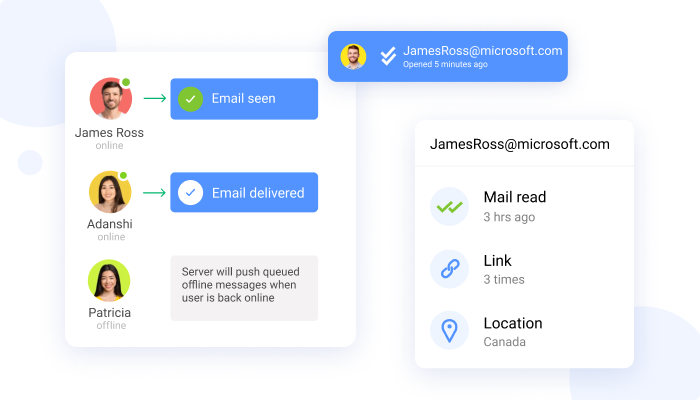 Chrome extensions like OpenedOrNot comes with robust email tracking and read receipt features that lets you to trace email opens and lets you to know who can be your prospects.