How to enable email tracking
Email tracking is a simple way of gathering information from emails you send. The data can be used to make a valid marketing decision. When you use email tracking system, you can see when a recipient opens your email. Not only that, but you can also determine the time and device that was used. It also tells you whether the recipient opened and clicked on the links and attachments.
An email list is an effective channel for a business to reach out to customers. With a periodic newsletter, you can notify your clients of new arrivals and that you exist and still do business. But with so many emails coming in every day, the chances are that your mail will either end up as spam or left unread.
Email tracking takes conventional mail sending a step further. It helps optimize your mail, clean up your list, and improve your business. Primarily, it removes the uncertainty that comes with inactive emails and reduces stress. This ultimately helps the business to work more efficiently and effectively.
This is how you can go about tracking emails in Gmail
Email tracking provides an opportunity to eliminate uncertainty. It opens a window through which you can peek at the other side to get an update on your mail.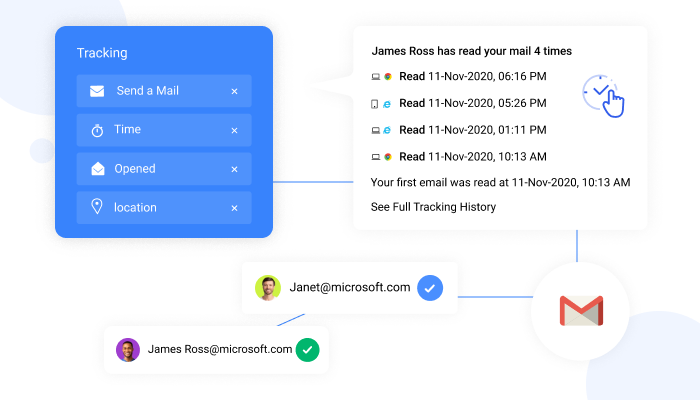 Most human resources have experienced sending an email and anxiously waiting for a response. However, they usually have no idea whether the recipient has opened the mail and read it or not. While you wait for an answer, you will be tempted to send a follow-up message. The problem is that you don't know how soon to send the message. Or, what are the chances that the recipient will read the follow-up message?
Unknown to many, you can now monitor and track every mail you send out. Keep reading to know how to track your emails.
Email tracking is the simple process of gathering data from emails you send. You can then use the data to make an informed marketing decision. An email tracking software provides insight into when a recipient opens their email. Not only this, but you can figure out the time and device used. It also informs you of whether the recipient clicked on the links and attachments or not.
Essential, email tracking helps your business track and monitor: When your emails are opened The device the recipient opened them on The connected IP address and the location of the recipient Any link or attachment clicked on within the email.
Why you should track your emails
Helps marketing team write better emails (checking conversations)
Email tracking helps businesses figure out open and click rates – two crucial metrics for email campaigns. The open rate is the number of people who opened the email versus recipients. On the other hand, the click rate is the number of people who clicked on links within the mail versus recipients.
Email tracking saves time – there is no easier way to put it than that. When you email a customer or prospect, and they don't open it, open or close it, open it once, or fail to download an attachment, you can be sure the prospect is not interested in your services. This will save the time needed to prepare another mail. It will also save the time of waiting for a reply.
Email tracking provides a feedback system that businesses can use in their sales and marketing plans. If several leads don't open your mail, you can determine if the timing is wrong or the mail is structured wrongly. If a lead opens a mail too late, you can immediately push through a follow-up message. But if he does not open your mail ever, you can clean up your lid and say goodbye.
The tracking system helps you get rid of parked, invalid, and inactive domain accounts. You can also identify prospects that are more interested in texts than in attachments.
Data capture
Email tracking provides insights into how to write your mail. For most people, writing the perfect mail can be daunting. However, an email tracker provides enough information about your lead to help you with the process. With this, you can schedule your emails. For example, if your prospect is in another location with a different time zone, you can schedule the email to their working hour.
How email tracking works
You can track any email after adding and enabling the email tracker. The software does the following:
Maintains a record of when emails are opened and read: The tracker lets you view all your tracked emails in one place. It also provides real-time alerts on activities on the mail and daily email analytics. The system also provides real-time delivery status notifications. Thanks to an intuitive dashboard, you can create personalized content for devices.
Smart reminders: You can set reminders to notify you as soon as someone opens or reads your mail. This feature is perfect for those who forget to check their emails to ensure you don't miss any updates. You can also set follow-up reminders and reminders for unopened mails.
Get real-time notification: The tracker provides real-time notification on the subject of the email, recipient information, and activities.
Link-click tracking: You will receive daily reports to help you monitor and analyze the open rate and click rate. You can also save these reports, analyze them, and compare past data for improvements.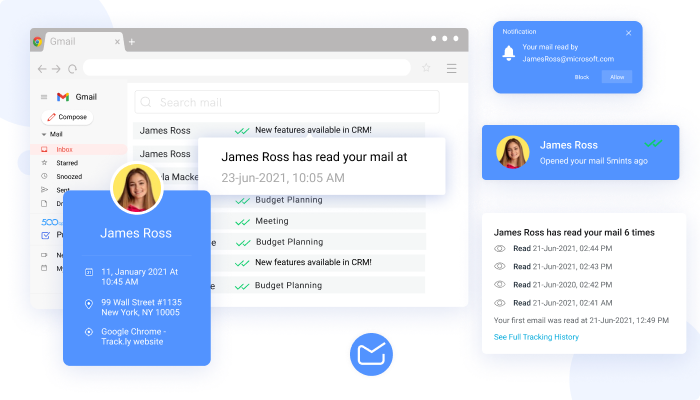 Real-time analysis: accurate data for each impression, click, and conversion saves hours of manual work. The tracker reduces your clicks by up to 50%, and you don't have to log into different portals to gather analytics.
How to track emails in Gmail
Opendormot.com is a versatile email tracker that shows when a mail is opened and how many times the recipient opens it. Not only this, but it also indicates if the receiver clicks on any link or attachment. Besides uses for email tracking, you can use opendormot.com to track sales operations and engagement that arise when recipients open the mail. With $14.99, you can access more than 37 apps for optimizing your emails.
Opendormot.com allows you to track and display activities for each email, including their locations, read date and time, and browser. With only your Gmail and chrome, you can start tracking your emails today.