Email marketing helps businesses in the sense that it is the most trusted form of communication. As many as 77% of consumers prefer emails to any other form of communication. This is the reason why any business worth its while should deploy email tracking software like that provided by OpenedorNot. Why email tracking is required is something that has to do with its ability to quantify and tabulate the success of an email campaign. As Ann Handley says, ""Make the customer the hero of your story." This tweet too is a fine example of why email tracking is so important-"Interested in tracking email opens and clicks in Gmail and Outlook? This guide will show you how!". The answer to the question how email tracking helps is-in various ways.
The number of email users across the world is close to 3 billion people. One cannot possibly not leverage its power. To understand how email tracking helps one has to realize that a well crafted email marketing campaign helps businesses track users and improve accuracy in a number of ways. By some estimates, one out of every five emails does not get delivered. It is therefore imperative that one track one's email marketing campaign to obtain a fair idea of its success and take the right steps to enhance the open rate, in case it is below par.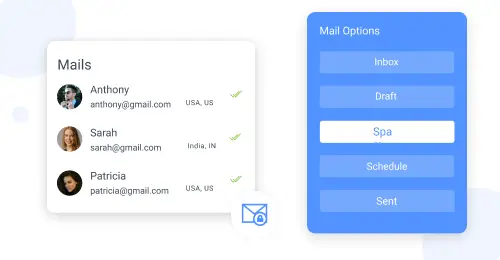 A good email marketer will work on creating a beautiful campaign, get the segmentation of the target audience right to improve focused messaging and send the mails out at the optimal time with regard to the expected response from the prospect. At the same time they should arrange to get their email marketing tracked in real time, so as to hone their campaign as they go along. That is how email tracking helps in the real sense.
The ways it does so is as follows:
1. Apprise One of the Delivery Rate
This has a direct correlation with enhancing marketing efficiency. If the emails are not even reaching the intended target audience there's obviously something very wrong with your email campaign. If an email campaign has a delivery rate of 95% and above, a bounce rate of less than three percent and a spam rate under 0.08%, you are doing everything right. This is how email tracking helps.
Among the things that help enhance the deliverability of an email are the sender's profile, and reputation. That apart, the frequency of an email campaign or a dramatic rise in the number of emails sent out are other factors impacting upon the delivery rate. Frequent switching of the email service provider too can have a negative impact upon the delivery rate. Knowing one's email delivery rate allows one to take the right kind of remedial measures, if required.
These could be in the shape of taking care to send the emails to a curated list of contacts that possess a high click rate. The list should comprise only those who have opted in to receive the emails. There should also be a gradual increase in the number of emails you send out.
2. Obtain the Open Rates
By knowing the open rates one knows exactly how well one's email marketing campaign is faring. If your emails are not even opened, despite getting delivered, you need to have a look at its contents and find out what needs fixing. If you are clocking an average email open rate of 15 to 25 % and a click-through rate of about 2.5% you are doing fine. A good click-to-open rate is about 20 to 30%. That too is how email tracking helps.
That being stated, it is important to note that an email open rate will be impacted by the industry that it pertains to. Apart from that, it makes sense to observe if the email rates get better with time. That gives you a fair idea about how people take to your emails. You will also be able to determine the kind of content that works best with your particular target audience.
3. Getting to Know the click-Through Rate
If your emails are achieving a high click through rate, you are on the right track. A decent click through rate should be in the vicinity of around 2.6%. The click through rate measures respondent engagement. It enables you to measure prospect interest and is impacted by factors like the content contained in the email, the way that links have been placed and the number of links sent.
Click through rates are of two types, unique link click type and all link click type. In the case of the former the tracking takes into account the fact that a link has been clicked once. The CTR in such cases lets one know how many of the recipients clicked through the email.
In the case of the all link click type of tracking, the total number of clicks through an email, including multiple links by the same recipient are counted. The CTR in this case informs you of the ratio between the sent emails and the total number of visits to one's site. Yet another important answer to the question how email tracking helps.
4. Finding Out if the Email Address is Correct
Your open rate lets you know if your email list is an updated one. The thing about emailing is the fact that it is amongst the most preferred forms of communicating with one's prospects as people tend to check their emails everyday. However, it is also a fact that a significant percentage of email addresses that one has are the right ones, largely on account of human error.
It goes without saying that one can obtain genuine customers through emailing, only if they possess genuine email addresses. That is why email validation is so essential and the most important component of the process of collecting stellar quality data. By the simple expedient of collecting quality data in the form of correct email addresses by verifying them. This prevents the possibility of fraud and enhances one's ability to establish a creditable profile. The good thing about email marketing is the fact that people who purchase goods on account of email marketing spend 138% more than the ones receive no such email offers.
As a matter of fact McKinsey holds that email is almost 40 times more efficacious than Facebook and Twitter combined in helping a business obtain new clients. Of course, for you to have such outcomes you need to ensure that you send emails to prior vetted and verified email addresses. Doing so eliminates the possibility of hard bounces, reduces the number of spam complaints and prevents one from getting blacklisted.
For you to achieve this you have got to adhere to certain rules. Stellar data quality is the very first one. You should check the quality of your email addresses regularly with the help of an email validation tool. The second thing that you have got to be doing is to review your database regularly. Email subscribers who don't engage with you should be struck off the list. The more responsive, interested and engaged the mailing list is, the better are the expected responses from a targeted mailing campaign.
Emailing has been a way of life for most of us over the past many years. We have come to take it for granted and at times found it irritating and intrusive. However, the fact of the matter is that there is no getting away from it and even savvy marketers have learnt to leverage cutting edge technology to get the most out of it.
For all the noise and hoopla surrounding social media marketing and SEO, it is good old emailing that provides the biggest bang for the buack. This is something that a business would ignore at its own peril. Any business that is serious about growing exponentially needs to work assiduously at refining and updating their email data lists. A well curated data list is literally like a gold mine that you can keep returning to and obtain handsome returns. Yet another way to address the question how email tracking helps.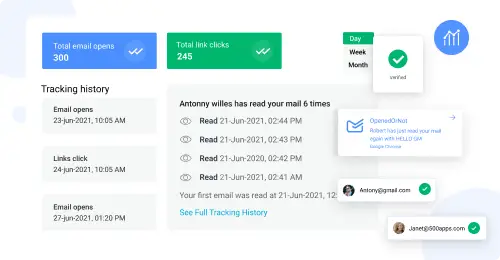 Of course, the email marketing that you do has to involve leveraging technology and crafting a clever strategy to target those who are primed to buy and not waste your time connecting with those who have no interest in your products and services. In the early days of enal marketing there was no way of telling whether you were reaching out to the right people or not, but modern email marketing tools give you a very precise idea of whom you are mailing to and how likely they are to respond to your offers.
With this kind of a highly calibrated approach, email marketing is bound to outperform most other forms of marketing outreach. Any digital marketing who is seriously thinking of acing the digital sales force has to absolutely include email marketing as a part of their marketing funnel. This is something that is known to the biggest of brands and trans-national corporations in the world and they leverage the power of emailing for all that it's worth.
The fact that it costs nothing like a typical digital advertising budget makes email marketing all the more attractive for businesses and organizations across industry and scale. The fact that there are relatively inexpensive tools to help an organization maximize their returns from email marketing makes it an even more attractive proposition.
Going forward, we can expect to see email marketing backed by cutting edge apps revolutionise the digital marketing strategies of all kinds of businesses. With the deployment of AI causing a paradigm shift in the efficiency levels of email marketing, we are poised at the cusp of a new email marketing revolution. Things can only get better from here on.
Conclusion
How email tracking helps is a questions that doesn't even need to be asked. Email marketing continues to be hugely important for a number of reasons. For one it happens to be one of the most cost effective digital marketing strategies with amongst the highest ROIs. This is great news for businesses with tight marketing budgets. That is practically everyone in these pandemic times. Compare this with the thousands and thousands of dollars one needs to spend on advertising budgets and the usefulness of email marketing becomes very apparent indeed. For every dollar spent on email marketing the average return on investment is as high as 122%.
Secondly, email marketing helps link the myriad marketing channels a business deploys and make one's marketing initiatives bear fruit. Every marketing initiative encompassing social media marketing, SEO, content marketing and so on may generate the initial interest amongst the target audience. There is, however, no guarantee that it would lead to any concrete action on the latter's part. Follow up by email ensures that it does. As a matter of fact businesses see 174% more conversion through email marketing than through social media.
Thirdly, email marketing creates a personalized experience for one's target market. Some 74% marketers are of the opinion that personalized email content enhances customer engagement. Using personalization in one's emails leads to the prospect feeling that they are experiencing a one to one interaction making them more forthcoming in their response.
Fourthly, you can hope to both obtain new clients and retain your existing ones with the help of targeted emailing. Email tracking and automation can help you strategically engage both with existing customers as well as new prospects and get them to take positive and affirmative action with regard to your product. While product promotion can be carried out well with the help of social media marketing or advertising, the fact of the matter is that 77% people would prefer receiving opted in promotional emails.
Fifthly, email marketing enables A/B testing to let you zero in on the most effective messaging templates that help you obtain the best possible results. This helps you to effectively leverage the power of customer data to serve the best interests of your business.
Sixthly, the mobile first phenomenon that involves people checking their email on their mobile devices too has given a fillip to email marketing. With mobile users checking their emails more than three times a day and 70% people reading their emails via a mobile app this is to be expected. There is absolutely every reason in the world therefore to continue to leverage the power of mobile email marketing. The answer to the question how email tracking helps is quite clear really. How email tracking helps is by making email marketing a huge success.