What Is Link-Click Tracking for Email?
The report you receive from OpenedOrNot also includes information about your target audience's preferences
Businesses utilize numerous techniques of marketing in this modern era. Among some popular marketing techniques, one commonly used technique is email marketing. It is a form of marketing that helps people know about your services, products, discounts, and other offers.
Email marketing involves the use of emails to promote your products and services. It is also used to incentivize your loyal customers. The emails sent out under the email marketing technique may include certain links for your customers. However, how many customers click those links and how many ignore them is an important thing to find out.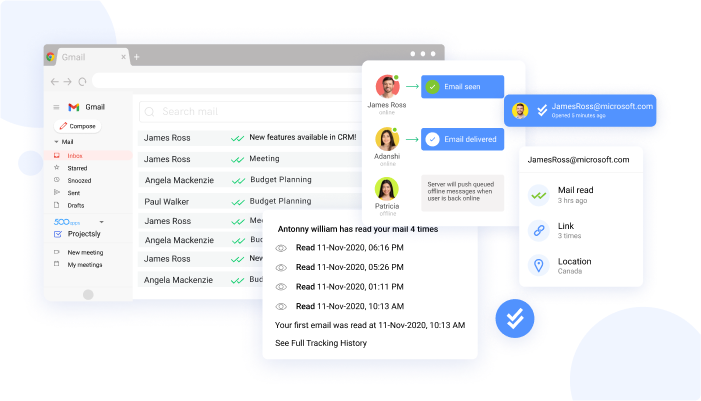 This is monitored with the help of an email click tracking tool. This technology is rather crucial in helping you find out how often your customers interact with your business email by clicking the given links. Collecting such data is helpful for any organization in chalking out marketing plans.
Link-Click Tracking – How Does It Work? Email click-tracking technology is pretty simple. When you use a bulk email service, it automatically adds a tracking tag to all the links in the emails sent out. Then, when a recipient clicks on a given link, the service immediately receives an alert of this event. In addition, it instantly adds the event to its statistics log.
OpenedOrNot – Link-Click Tracking for Email The OpenedOrNot tool helps you effectively track your email open and click record. The tool offers you a daily report to determine the number of times recipients have clicked on the given links on your business email. It looks at different parameters, including the number of read/unread emails and emails tracked.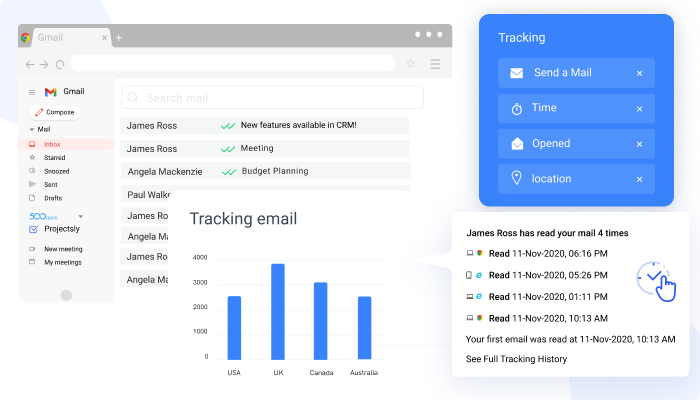 The report that you receive from OpenedOrNot also tells you about your audience preferences. This will help you with your future marketing campaigns. As a result, you can plan your future marketing campaigns more precisely.
Features of OpenedOrNot There are several helpful features of the OpenedOrNot tool that can be beneficial in your email marketing campaigns. Some of these are listed hereunder.
Email Tracking With the help of this feature, you can easily understand when the recipients open your emails. It maintains a record of the time your emails are opened. Along with this, the tool also provides you with essential data about the recipient's location, read time and date, and browser. You can receive all of this data with just a single click. The Email Tracking feature also tells you how often recipients have opened your email.
This feature helps you track your sent emails and make the most of your valuable time. In addition, since it tells you the type of browser and device used to open the email, it can help you customize your content as per that device and browser.
Read Recipients Wouldn't it be nice if you could find out when your recipients read your business emails? This is possible with the help of the Read Recipients feature. When a recipient reads your email, you get to see two green ticks. Grey ticks signify that your emails have been delivered to different email addresses.
This feature helps you reduce the number of clicks. You can enhance the efficiency of your user's workflow by improving the way you organize your data in your reading receipts. Create automation workflows just once. This will ensure that the right information reaches the proper recipients at the correct time.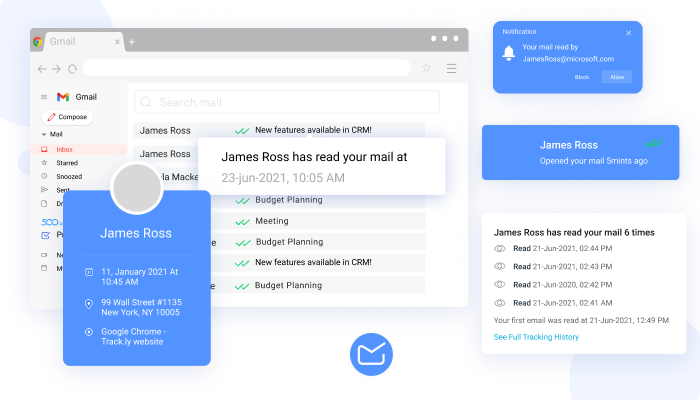 Daily Reports Receive detailed reports every day with the help of this feature. It also helps you analyze and keep track of data about emails daily. The data will give you different types of information, such as emails delivered, clicked, and opened. Daily Reports is a user-friendly tool and pretty affordable.
Daily Reports provides you with a list of unread emails. In addition, it tells you the total number of emails in your inbox and when was the last time you read your emails. Whenever an email is opened, you receive an alert. You also receive similar alerts when you click a link on any of your emails.
In these competitive times, staying ahead of your competition is necessary. With the help of different types of marketing techniques, staying at par with the competition becomes possible. If your business depends a lot on email marketing, it is necessary to keep track of your email clicks for effective marketing of your products and services.